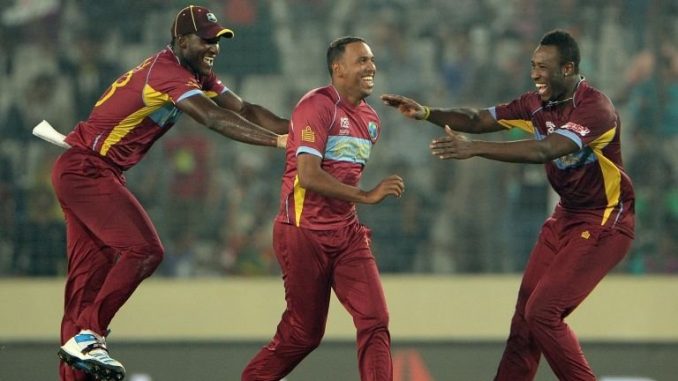 West Indies sealed its place in the World Twenty20 semifinals today at the Sher-e-Bangla National Stadium this Tuesday after spinners Samuel Badree and Sunil Narine grabbed three wickets each for the defending champions in a resounding 84-run victory over Pakistan. Pakistan lost all ten wickets before the twenty overs could finish.

Pakistan played their best for the first fifteen overs but then gave away about eighty six runs to the West Indies in the last five overs, allowing them to make a decent score to defend in the next half of the match. All-rounder Dwayne Bravo (46) and captain Darren Sammy (42 not out) hard work did not go to waste after their late burst lifted West Indies to 166-6. The score was easy to defend as the wickets of the Pakistani team began to trickle down after first easy wicket of Ahmed Shehzad. Even the captain could not score more than 19 after which he had to return to the crease.

The West Indies bowling attack was beyond fabulous as Badree helped knock off the top and middle order to grab 3-10 and then Narine turned the screws with 3-16 as Pakistan was bowled out for only 82 in 17.5 overs. The Spin pair of the West Indies made sure that the match did not lose its momentum and helped in the wicket taking. The West Indies will now play Sri Lanka in the first semifinal this Friday, while India and South Africa will meet in the other semifinal on Saturday.