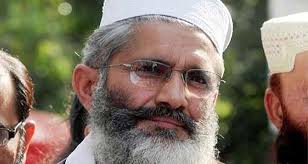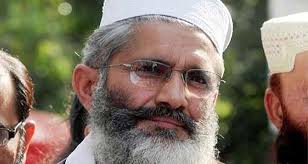 The newly elected Ameer of Jamat-e-Islami (JI), Sirajul Haq has said that the dialogue between the government and the Tehreek-e-Taliban is the only way of restoring peace in the Pakistan.

Addressing the peace conference today, Sirajul Haq urged the federal government to hold the second round of talks with the Taliban representatives in Islamabad. He further demanded the Federation to compensate Khyber Pakhtunkhwa and tribal areas for the losses they suffered due to terrorism. Sirajul Haq paid tribute to JI KP chapter for the successful conduct of the peace conference and enlightening the issues of the province and adjacent tribal region. He further added that "Maulana Samiul Haq, 80-year-old man, cannot be expected to go into the mountains to negotiate." Siraj ul-Haq also suggested that the Khyber Pakhtunkhwa government could facilitate the talks, if it was something that the federal government could not do.

Sirajul Haq is a Pakistani Islamist conservative politician who was elected as the chief of Jamaat-e-Islami, a social and political conservative party in Pakistan having objective to establish Islamic laws in Pakistan. He also serves as the senior minister of Khyber Pakhtunkhwa, serving in the Pervez Khattak administration. Haq was born in the Upper Dir District, did receive his master's degree in Political Science from the Peshawar University. He had been the Chief of Islami Jamiat-e-Talaba from 1988 to 1991. In 2014 he was elected as the Central Ameer of Jamaat-e-Islami.