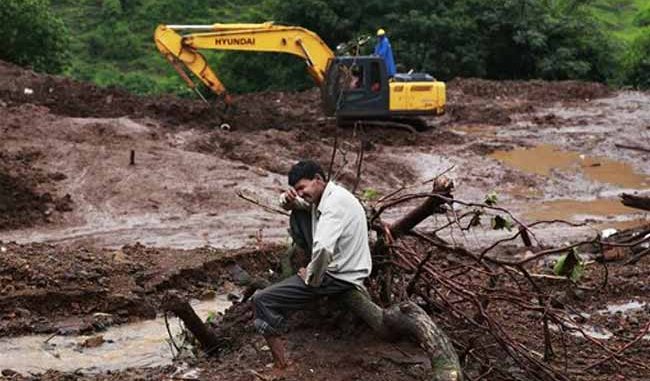 The death toll on the Malin village which experienced a deathly landslide, is on the increase. The landslide swept with it almost 40 houses and more than 75 have been pulled out dead whereas more than 100 people are still feared to be trapped under the debris. The Malin village is located in Pune's Ambegaon taluka.

The rescue operators are only able to pull out about eight people alive from the debris. The left image shows a man named Chandrakant Zanjare who weeps near the place which once held his house. He says he has lost about thirteen people of his family in the landslide. The National Disaster Relief Force (NDRF) informed that the removal of mud and slush is making the rescue operation extremely slow and that they don't want to compromise the lives of the people who are still alive and buried under the slush or debris. Sources belonging to NDRF have informed that it could take another two three days for the operation to be completed. According to One India News, Union Home Minister Rajnath Singh said in the Parliament that the Centre would form an experts' team to study the area hit by the natural disaster. It was said that years of deforestation led to the loosening of the soil, causing the tragedy. Singh, who visited the area on Thursday, announced Rs 2 lakh assistance from the PM Relief Fund to the kin of the deceased.

The Maharashtra Chief Minister Prithviraj Chavan also announced an aid of Rs 5 lakh to the family of the victims from the CM Relief Fund. It was also said that the state government would provide free medical treatment to the injured and rehabilitate the village Congress president Sonia Gandhi is likely to visit the landslide site today.