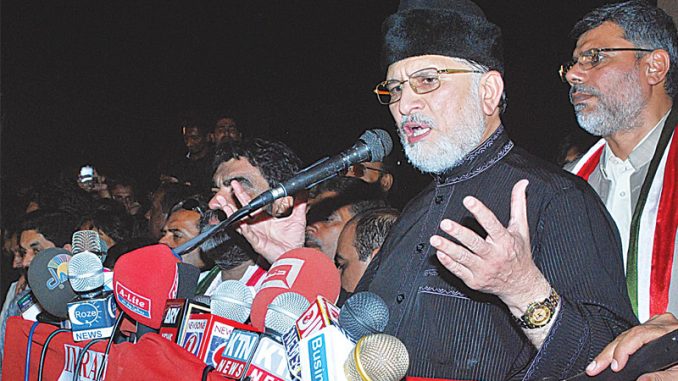 This Saturday, the Pakistan Awami Tehreek (PAT) chief Dr. Tahirul Qadri addressed the 'jalsa' held at Faislabad which mentioned key pointers that will help him bring a change or 'Inqilab' in Pakistan. He addressed tens of thousands of people who had gathered in the Dhobi-Ghat ground to hear the message of their leader.

He said the 'dharna' in the captal city of Islamabad had brought a change in the minds of the people adding that now people had had enough and are ready to stand up against the tyrant rulers. He further added Faislabad is the heart of Punjab and the people of Faislabad have given their verdict against the oppression of the current government. The PAT leader further added that no one can stop this revolution. He said that now to carry on his protest against the government and to bring 'inqilab' to the door-steps of the people of Faislabad, he will need funds and the workers were asked to donate as much as they can. He announced the establishment of the 'Inqilab fund'. "Give me support, note and vote….and I will bring revolution in the country," Qadri said.

He criticized the two parties that have been taking turns in Pakistan, adding that Nawaz Sharif had backed Zardari during his government and that now Zardari was returning the favor by supporting his government. "I have given an agenda which will ensure bread and employment for poor people," assured the PAT chief. He thanked Ghulam Mustafa Khar, Chaudhry Pervaiz Elahi, Sardar Asif Ali, Allama Raja Nasir Abbas and also Hamid Raza Khan for attending the rally in Faisalabad.