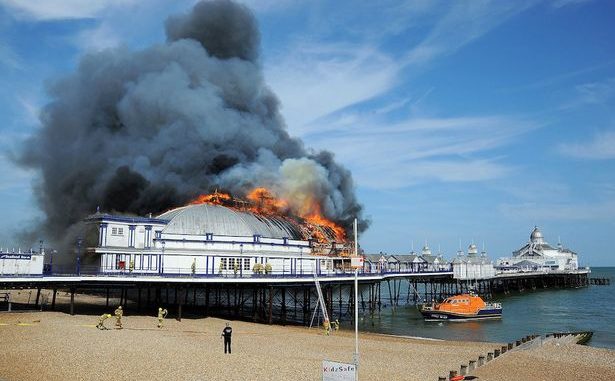 The Sussex police have now launched an arson inquiry to investigate the fire which destroyed part of Eastbourne Pier during Wednesday.
Earlier, the fire was suspected to occur as a result of an electrical fault could have sparked the blaze on the 144-year-old attraction and destroyed about a third of the 1,000ft (300m) long structure.
The pier- built in 1870, had a number of cafes and bars as well as a nightclub.
Police are now treating the fire as "suspicious" after the information gathered by detectives referred to it being "started by someone, either deliberately or accidentally".
To control the inferno, up to 80 fire-fighters came at the site of the Grade II-listed Victorian attraction. Even after the situation got under control, the dome-shaped amusement arcade near the entrance turned into a scorched shell. However, no one was injured and the fire-fighters controlled the blaze after tackling it from the shoreline, the water and from underneath the Pier.
Detective Inspector Mark O'Brien, of Sussex Police has stated: "As a result of our investigation we have received information to suggest that the fire may have been started by someone, either deliberately or accidentally, and our investigation is now focusing on that line of enquiry.
"A temporary scaffold platform has been erected adjacent to where the fire is thought to have broken out in order to enable scenes of crime officers and fire investigators safe access to the area."
Prime Minister David Cameron and Chancellor George Osborne have announced that Eastbourne is set to receive £2m to rebuild the pier.
The PM has said to understand the fire would "hit the town hard" while pledging his support for local businesses.
Mr Osborne has told: "Eastbourne Pier is a much-loved local attraction and this fire is devastating news. I am therefore delighted to be able to provide financial support so we can minimise the effect on business and tourism."
Article viewed on Oye! Times at www.oyetimes.com.