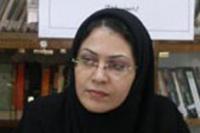 This article was last updated on April 16, 2022

The Harald Edelstam Foundation has decided to award prominent imprisoned student activist Bahareh Hedayat with the first Edelstam Prize for having "dared to play a leading role in the student's movement as in the women's rights movement in Iran."
The prize, administrated by the Harald Edelstam Foundation, is awarded for "outstanding contributions and exceptional courage in standing up for one's beliefs in the Defence of Human Rights." It is named after the Swedish ambassador Harald Edelstam (1913-1989).
"The Laureate has faced severe police brutality and has been arrested repeatedly for her courageous actions, and is today a political prisoner in the feared Evin Prison in Tehran," the foundation said in a statement on Wednesday.
Praising her "great amount of civic courage," the foundations expressed regret that she would not be able to travel to Stockholm on the 16th of April to accept the prize. "It is a great tragedy that a young, vital and freedom-loving woman shall pay such a high price for her courageous actions and in defending others and the civil rights."
The Harald Edelstam Foundation called on the Iranian authorities to release the young activist.
Born in Iran in 1981, the student and human rights activist is a member of the Central Council and Spokesperson for the Office for Fostering Unity (Daftare Tahkime Vahdat), a prominent student union. She was also an activist with the One Million Signatures Campaign for the abolition of discriminatory laws against Iranian women.
On 31 December 2009, Hedayat was arrested for the fifth time in four years by Intelligence Ministry agents and taken to ward 209 of Tehran's notorious Evin prison. She was later sentenced to 9 ½ years in prison for her peaceful activities.
There is also a Facebook page set up for the Release of Bahareh Hedayat Campaign.
Click HERE to read more.
You can publish this article on your website as long as you provide a link back to this page.