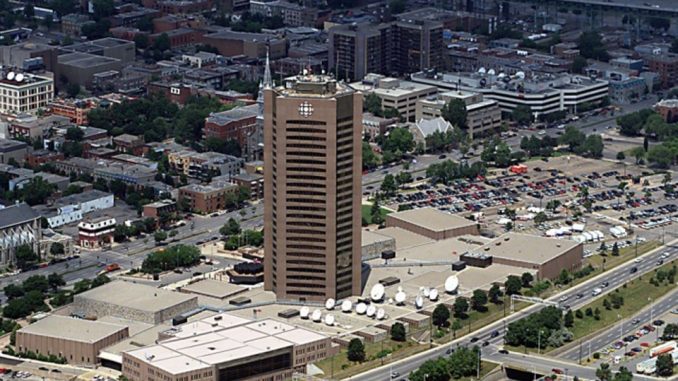 Canada's public broadcaster, CBC (Canadian Broadcasting Corporation), has started work on its promise last year to sell off all its property across the country, including the tower on René-Levesque Blvd. CBC announced on Wednesday that it has sold that building, and the parking lot that takes up the western edge of the property, to the Mach Group. However, the sale is yet to be approved by the Treasury Board of Canada.
According to the sale agreement, Broccolini will construct a new building on the eastern parking lot of the CBC property at the corner of Papineau Ave. The construction is anticipated to begin September 2017 and scheduled to be completed by January 1, 2020. The state-of-the-art building is planned to house multi-platform facilities, a four-storey atrium, a second tower that is seven storeys high, a rooftop patio, and will meet environmental and sustainable development standards. Moreover, the building plan includes open spaces for the public to interact and the facilities will be closer to the street than the current building.
At the time of announcing the decision, the president of the public broadcaster Hubert Lacroix mentioned that "when you walk by, or when you drive by our Maison Radio-Canada right now, we are very from the the streets and people" adding that "you will see transparency. You will see light. You will see and the people in the citizens of Montreal, when they're going to walk around our building they're actually going to be in a better connection with us and us with them." CBC and Radio-Canada will rent studio and office space on a 30-year lease.


Loading ...