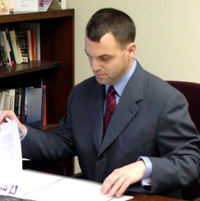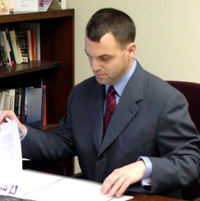 Conservative Tim Hudak portrayed his two chief opponents as separate wings of the same "high-tax" party as polls consistently indicate that no prominent party will surface with a clear majority in Thursday's elections.
On Monday, Hudak said: "There are three leaders running for premier. But there are only two choices facing Ontario voters. It is a choice between relief and high taxes."
Progressive Conservative leader Tim Hudak is in Windsor where he signed autographs and posed for snap with his supporters but refused to take questions from the media.
Supporter Al Teshuba, who ran in the 2006 federal election as a Conservative said: "There is a real excitement going on in Windsor right now for change. I think one thing that's been really proven is that when we have a voice in government we're able to get things done for Windsor. There's no doubt that Hudak is going to be the next premier."
Both the leaders, Hudak and McGuinty have declared that they will not sign an agreement with anyone to form a government in the case of a minority parliament, which nearly all polls hint is most likely to happen. Whereas, the NDP Leader Andrea Horwath sketched her precedence for being in a government but to date has no takers.
Article viewed on: Oye! Times at www.oyetimes.com