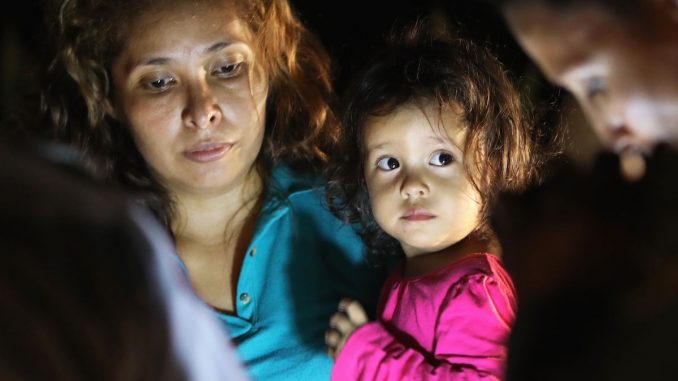 This article was last updated on April 16, 2022
As more stories of family separations at the border trickle out, many Americans are trying their best to fight the Trump administration's zero-tolerance immigration policy.
Attorney General Jeff Sessions announced in early May that the U.S. would criminally prosecute all adults caught crossing into the U.S. illegally, which means that children will then inevitably get separated from their parents. According to the Department of Homeland Security, nearly 2,000 kids were split from their families between April 19 and May 31.
Over the past few days, folks on both sides of the aisle have been calling for the Trump administration to end this inhumane policy. While activists are organizing protests near the border in South Texas and in cities across the country, your so-called average citizen is also looking for creative ways of supporting organizations on-the-ground.
Take for example Karen Ross, a professor and mother of two in Massachusetts. On Sunday, she started a children postcard-writing campaign with law professor Abby Wood. For the pair, the campaign is a way to take action against the cruelty of the Trump administration.
"We're moms, we have children, and many of us have been trying to figure out how to do something that can make a difference," Ross told Refinery29 over the phone.
The goal is to raise awareness about the situation at the border while simultaneously supporting RAICES, a Texas-based organization that has offered free and low-cost legal services to immigrant kids and families for the past 30 years. For every child that writes a postcard and it's posted online using the hashtag #postcards4families, they will donate $5 to RAICES. Wood, who first suggested the idea, said that their framework is flexible and anyone could start a similar #postcards4families campaign to support the organization of their choosing.
Ross, who is the mother of a six-year-old boy and a four-year-old girl, said it was important to involve her children in the process.
"Our kids have been aware of this situation and the injustice of it," she said, adding that her son had a very strong reaction to learning that other children have been separated from their parents. "What we really hope in addition to raising money, is that this is an opportunity for our government officials to hear from our kids and how they see this separation policy."
Are your kids as ashamed as mine about what is happening at our borders? Here is something they can do: https://t.co/I1xo0ksYgh #postcards4families #FamiliesBelongTogether /1 pic.twitter.com/9PIZKZWAB0
— Abby Wood (@yesthatabbywood) June 18, 2018
Ross said that the other reason why the family separation stories have shaken so many people is because it's an issue that involves children and feels personal.
"No matter what your political views are, it's difficult not to be affected in some way when you're hearing about this kind of issue and [about] little kids who are being separated from their families," Ross said. "It's something that people feel they can understand on a personal level. Immigration issues and the debate on all sides of the aisle can feel a little abstract, but this policy is not. You see [its impact when you see] a picture of a little kid. Human empathy then challenges people to act."
A quick search on Facebook's fundraisers and donations tab, GoFundMe, and other platforms show similar fundraising efforts. Some have exceeded everyone's expectations: For example, a Facebook fundraiser organized by Charlotte and Dave Willner to support RAICES has raised over $5.4 million since Saturday.
"Regardless of political party, so many of us are distraught over children being separated from their parents at the border. We can't all be on the frontlines to help these families, but by supporting RAICES, we're able to do something that just takes less than a minute, and collectively have an impact," Charlotte told Refinery29.
Contributions are being matched up to $250,000 by several private donors. According to Willner, the average donation has been around $40.
In an update posted by Dave on Tuesday, he told supporters of the fundraiser that they've spoken to RAICES to talk about how the organization would use the money. "They are ramping up a huge network of volunteers, attorneys, and partner organizations statewide to make sure no child and no parent falls through the cracks," he wrote. RAICES is organizing a webinar Wednesday to discuss its plans.
For Charlotte, people's response to the fundraiser had been inspiring — but raising money is just the first step.
"When we all come together in community efforts like this, we can find an antidote to the feelings of helplessness," she said. "This is just the start though, and donating is the easy part, so our hope is that people continue to be hungry for information and get involved."
Click HERE to read more.

You can publish this article on your website as long as you provide a link back to this page.
You can publish this article on your website as long as you provide a link back to this page.