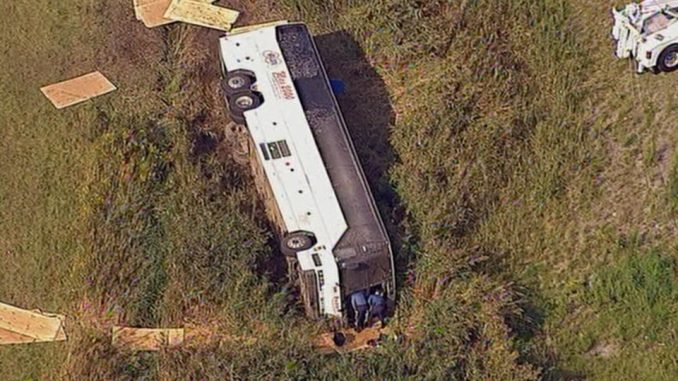 Just before 8 a.m. ET a chartered motor coach coming from Toronto and travelling towards New York City turned upside down on the highway exit ramp in New Jersey, approximately 25 kilometers northwest of New York City in Wayne, N.J. Almost nine people were shifted to a hospital early Saturday.

Sources have confirmed that a total of 57 passengers, most of which were children, were riding on the bus at the time when it flipped onto its side before sliding down the exit ramp embankment. The rescue team successfully saved all the passengers from the site, including the ones who could not make it out of the coach through the windows. Except the nine people who were taken to hospital, several other passengers were also treated for minute injuries at the scene.

According to the New Jersey State police Sgt. Adam Grossman, "none of the injuries were considered life-threatening." Office of the travel agency owning the bus, Max 2000 Charter Services Inc., confirmed that the coach was rented from the company. However, the representative of the Toronto-based travel agency did not offer any more details except that the bus was destined en route to New York.

The cause or the reason behind the crash has not been yet been concluded. Even the speculations of a second vehicle or over speeding could not be ruled out. A portion of the interstate highway near the location of the accident has been shut down for routine traffic for safety reasons.