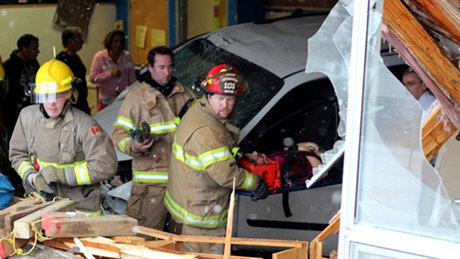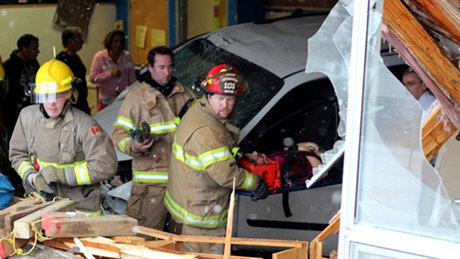 Three out of the eight injured victims of the minivan accidental crash into an Alberta school were airlifted through an air ambulance to Edmonton on Friday morning, around 9:30 a.m. local time, for additional treatment. The minivan reportedly hit the wall hard enough to put the car totally inside the Racette Junior High School on Thursday morning in St. Paul, a town of roughly 6,000 people located 200 KM east of Edmonton.

A reporter explained the situation from the scene saying that "five of them were treated at the local hospital here in St. Paul, three of them were airlifted to Edmonton this morning." It was further explained from the hospital in Edmonton that "two of those still remain in critical condition, one is in stable condition." It was later discovered that the three children airlifted to Edmonton were actually the ones which got pinned down beneath the minivan. The less seriously injured five victims were released from the local hospital after few hours of caretaking.

Counselors reached the school on Friday and begin investigating the students who might have witnessed the accident. The cause of the accident is so far not determined yet, but witnesses have raised their concern stating that vehicle was moving very fast and going right into the school building before it collapsed the wall into the classroom. The police have disclosed that the 46-year-old suspected driver also suffered few minor injuries but has now been arrested, though there is no confirmation if any charges are laid or not. Police claimed that the driver was "combative" during the arrest.