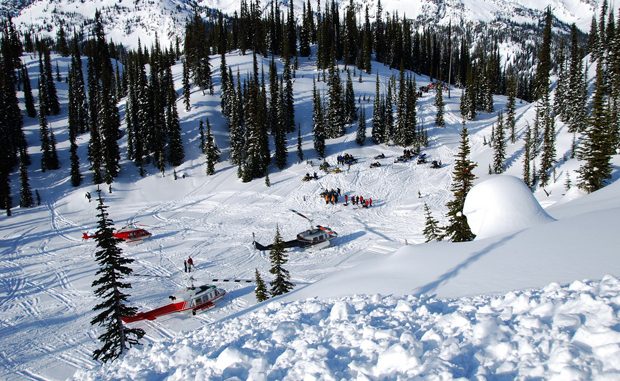 An avalanche recently swept across the backside of the Revelstoke Mountain Resort, encompassing an area where several groups of skiers were skiing at the time. It was confirmed by an RCMP official, Cpl. Dan Moskaluk, on Friday the a group of three people were skiing in an out-of-bounds area near the resort in the Greely Lake area, when the avalanche suddenly embarked upon them earlier in the day and claimed one life. He stated that "a number of the group were able to get out to summon further help and are speaking with RCMP investigators and search and rescue."
The general manager of the Revelstoke Mountain Resort, Rob Elliot, elaborated that the group of three people in questions actually belonged to a larger group of five or six men. Moskaluk explained that the remainder members of the group participated in a self-conducted rescue mission which saved two of the three people involved, while the third person was identified dead and left behind. He stated that "I don't know what equipment they were equipped with, but they did self-rescue," while confirming that the dead body will be recovered on Saturday. Neither Elliot nor Moskaluk were able to confirm the age or other details of either skiers.
The Canadian Avalanche Centre has forecasted a high danger rating in multiple areas of the province, which indicates that travel is not recommended in the alpine and at the treeline. Even though the risk will allegedly be decreased tomorrow, the avalanche centre claims the threat will arise again on Sunday as another storm moves in.