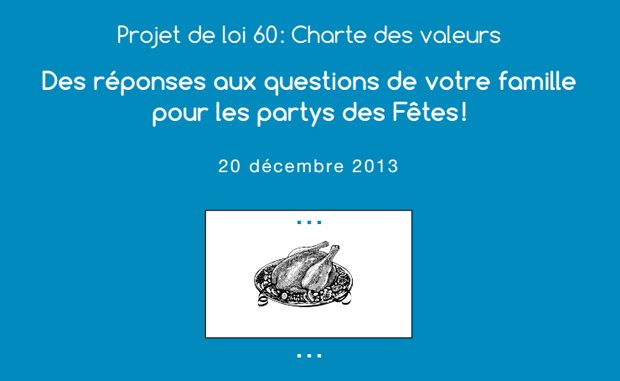 In opposition of the previous rhetoric customs of never talking about religion or politics at the dinner table, the Parti Québécois just revealed a primer explaining its controversial values charter just before the holidays. Behind a cover image of a basted turkey on a plate, the PQ has posted a number of commonly asked questions and answers on its website.

Regarding the questions about the most controversial feature of the bill, i.e. why prohibit public-sector workers from wearing religious headgear like the kippa, hijab and turban ? — the PQ explained that "all employees of the state must be in the service of all citizens." Apart from that, in response to another question, the primer stated that "The Parti Québécois government wants to ensure equality (between the sexes) and respect for all Quebecers regardless of their personal beliefs." The primer has repeated the claim made by the PQ minister responsible for Montreal, Jean-François Lisée, who reminded about the opposition to Bill 60, i.e. French-language charter, adopted in 1977. The PQ alleged that "Bill 101 was denounced by many, but today it is largely considered as a formidable tool for integration, cohesion and the defence of the Québécois identity."

Even though there are many prominent Quebec sovereignists, including former president of the Société Saint-Jean-Baptiste de Montréal Jean Dorion, who have openly sided against the charter of values, the primer does not makes any mention of them. But it does enlist many prominent Quebecers supporting the charter, including former Supreme Court Justice Claire L'Heureux-Dubé, academic and sociologist Guy Rocher and TV personality Julie Snyder.