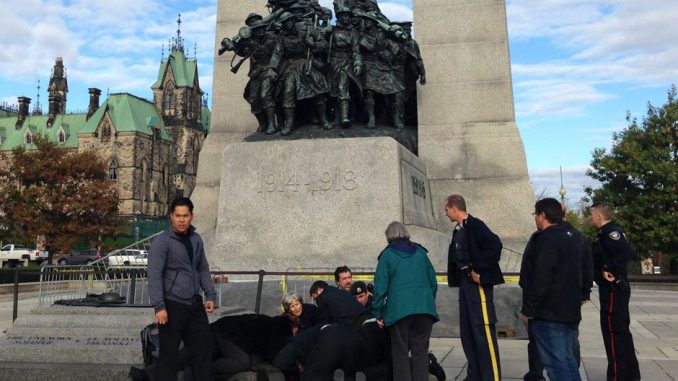 An ongoing Ottawa police operation has resulted in death of one assailant after a soldier was shot dead at the National War Memorial by an unknown assailant on Wednesday morning. There have been reports of almost 30 to 50 shots of gunfire inside the halls of Parliament. Conservative MP, Bernard Trottier, confirmed the news with a tweet at 10:30 a.m. that the "gunman at Parliament's Centre Block has been shot and killed."

However, police have persisted that they are still actively searching the area and it is "not a secure scene" as there may be multiple shooters. According to Ottawa Police spokesperson Marc Soucy, police cannot confirm the number of shooters but it can only say that there is more than one. The search perimeter set by the police have been expanded as confirmed reports of shootings come from the National War Memorial, in Parliament and near the Rideau Centre, i.e. a nearby shopping centre. Although no shots were fired within The Rideau Centre. Meanwhile, police has requested bystanders not to tweet about locations of the officers involved as the RCMP describes the situation as "on-going."

Several sources have now confirmed the news that a single gunman has been shot dead. Meanwhile, Ottawa Civic hospital has confirmed to have received two new patients at about noon, one with gunshot wounds and the other with unknown injuries. Both patients are considered to be in stable condition, although the hospital has refrained from commenting on the condition of the soldier.