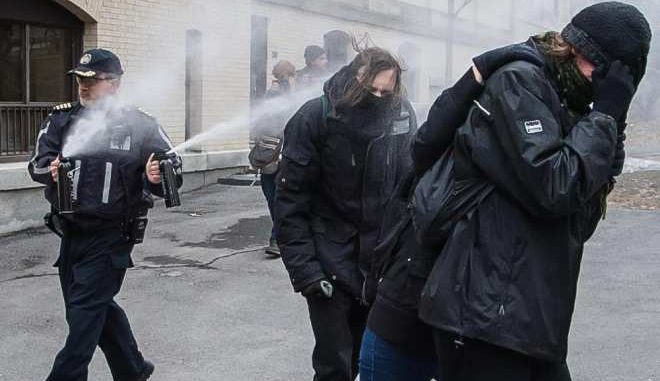 Anonymous Quebec has claimed responsibility for defacing The Montreal police's website over the weekend. The announcement about the hack in a tweet on Friday evening, which said that it had "turned the SPVM website into a smoking crater in cyberspace," while accusing Montreal police of abusing "citizens brutally." The website was finally restored on Sunday afternoon.

Whereas the Twitter account of Anonymous Quebec also published photo taken by Montreal Gazette photographer, Dario Ayala, which shows a police officer pepper-spraying a few protesters at a demonstration who have their backs turned to him. Meanwhile, there were additional hundreds of protesters on the streets for yet another night demonstration against the Quebec government's cuts to social services on Friday night. According to Quebec Police, it fined eighty-two people since the protest was deemed illegal by police five minutes after its 9 p.m. start time because no itinerary was provided to police before the start of the demonstration.

The officers revealed that the protesters moved west, towards St-Laurent Blvd., where they walked on the street against traffic. There on, the officers trapped two groups of protesters including 40 from near the corner of Milton St., and another 40 from near the corner of de Guilbeault St. Montreal police spokesperson, Laurent Gingras, confirmed before 10 p.m. that the protesters have dispersed. Police confirmed that the 82 people intercepted by police have been fined $640 each under municipal bylaw P-6.