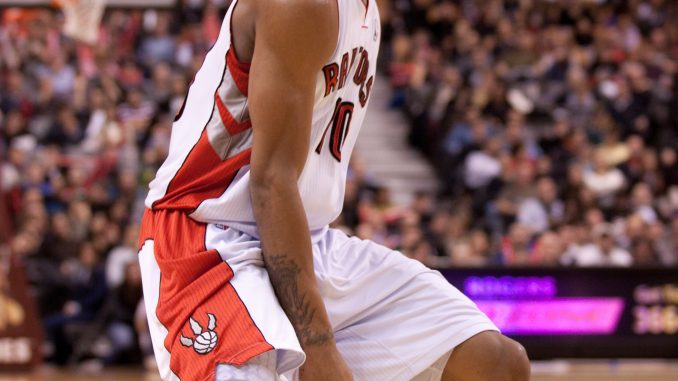 Tony Parker Leads Spurs With Game-high 34 Points and 14 Assists

A day after Lin-sanity captivated the city, Toronto Raptors picked up the pieces after back-to-back heartbreaking losses to push another of NBA's best to the limit.
The San Antonio Spurs survived a surge from the Raptors in the fourth quarter and hung on for a 113-106 wire-to-wire victory at the Air Canada Centre. Tony Parker dominated the game and finished with 34 points and 14 assists, both game-highs, to lead his team to its ninth straight win.
"I just got a good rhythm early in the game and my teammates made shots," said Parker. "I was finding them, I was penetrating, my tear drop was going in and my outside shot in the second half was going in. From that point I felt like I could control the game and penetrate and try to find something for myself and my teammates."
Toronto (9-22) is already without leading scorer Andrea Bargnani and guard Jerryd Bayless but had another casualty the night before losing bench player Linas Kleiza with a sore right knee injury. But the injuries didn't stop the Raptors from competing and playing the Spurs tough for most of the night.
DeMar DeRozan led the Raptors with a season-high 29 points while Jose Calderon continued his excellent form and added 16 points and 11 assists. Head Coach Dwane Casey was forced to dig deep into his bench that responded with important contributions and combined for 45 points.
"Health is an important thing in this league and when you don't have it, you do search. I was looking for any combination that would help us," said Casey.
"We've played three emotional games and I thought our guys competed in each one of them. To be undermanned, undersized or whatever you want to call it, my hat is off to our guys because I think they competed."
Anthony Carter came off the bench and was called upon to defend Parker but to little success as the Spurs point guard was unstoppable for most of the night.
"He was making some tough shots tonight," said Carter who finished with a season-high 10 points and six assists. "I was playing great defence on him and when we did switch the bigs were playing great defence on him. He was just making tough shots."
"But that's what he gets paid to do. He's a quick point guard and he's a smart point guard. They stretched us out a little bit with their shooters and that was kind of tough. He did his thing, but as a team we did our best on him."
Added Casey, "He is so slithery and so quick, and now he's gotten a little strength. He makes it tough to get into him and guard him in those situations. Now he has developed a jump shot, so you have to honour that. He's got the whole package."
The Spurs (21-9) are in the midst of its annual rodeo road trip – a nine-game 7,941 mile trek over a 17-day stretch – and the team is 5-0 so far. San Antonio is the hottest team in the NBA right now and is ranked second in the Western Conference but has been largely overshadowed by overnight NBA-sensation that is Jeremy Lin – and the team would have it no other way.
"No bigger story than Jeremy Lin right now, he's on fire," said Parker. "We've won nine in a row, so if nobody talk about us that's good. We'll keep playing good basketball."
Learning to Execute
The Raptors had another slow start and were trailing 25-17 after the first quarter. The team had trouble closing the gap as the Spurs increased its lead slightly and went ahead 55-45 at halftime.
DeRozan started the push in the third quarter scoring 13 points and Calderon dished out seven helpers as the Raptors tied the game but the Spurs would find a way to stay ahead and pull away. Toronto did close the gap to 83-78 heading into the final 12 minutes.
In the fourth quarter, Toronto kept battling to get to within 97-96, but San Antonio took advantage of turnovers and poor shooting to once again pull away – this time for good. After taking advantage of a weary Boston Celtics on Friday night, the Raptors have lost three consecutive close games with one thing in common – lack of execution in the fourth quarter.
"What we have to learn how to do is execute," said Casey. "It was 95-90, we got a steal, we go down and get a double-dribble call. Even if we get a lay-up it's a three point and one possession game. Executing down the stretch."
"DeRozan gets called for a holding call while the ball is still out of bounds. It's the game within the game. All those little things are things players have to learn – how to play in those situations. Again, we put ourselves in position to win and didn't execute."
DeRozan echoed his coach's sentiments and stressed the importance of not making the same mistakes moving forward.
"We've got to learn from our mistakes and learn what we could have done better so that down the stretch, the last two minutes, last three minutes, that'll definitely help us pull through the game. Once we get that down pat and execute on both ends from those last few minutes, we'll be fine."
Despite the losses and injuries, the players are looking at the positives and taking comfort in that the team can play with the best in the NBA.
"I think it's definitely been good because it shows us and everybody else that we can play with anybody no matter who it is," said DeRozan. "If it's the top teams in the NBA, we can play with anybody. We definitely proved that now we just have to put it all the way together and start winning games.
The key for the Raptors is to continue to play well and not have a letdown in the final two games of its seven-game home stand – two of NBA's weakest teams – league worst Charlotte Bobcats on Friday and the Detroit Pistons, who have the same record as the Raptors, next Wednesday.
To follow on twitter click
HERE

Photo courtesy of J.P Dhanoa
Download or stream
the 500 Level podcast with co-hosts Aman Dhanoa and Ben Trattner as they discuss news, opinions, and views on Toronto sports from the Upper Deck. Leafs, Raptors, Jays, Argos, TFC – nothing is off limits. It's good to be a fan!
Also available on iTunes