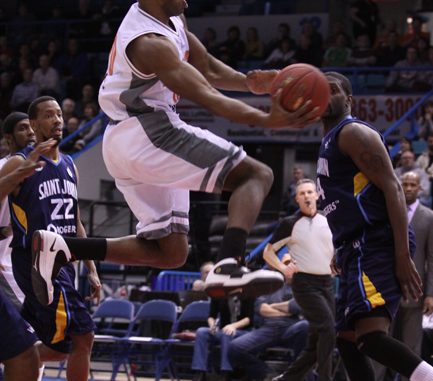 The Moncton Miracles, presented by Rogers, beat the Saint John Mill Rats with a final score of 98-92. The Miracles now sit with a 10-11 record.
Miracles Darrell Wonge started the game off right with a 3, which would soon be answered back by Mil Rats Anthony Anderson. At the 7 minute mark the game was staying close and Moncton had a 12-11 lead. Saint John's Anthony Anderson would hit a 3 to give them a 14-16 advantage at the 6-minute mark. With just under 4 minutes on the clock Miracles Micah Brand would lay it in for 2 giving Moncton the lead back, 19-18. The first quarter ended with the Miracles leading 23-21.
Saint John would soon catch up and have the game tied up at 25-25 before Miracles Kamar Burke hit a 3 to give them a 28-25 edge. The Miracles would lead by as many as 7 points late in the quarter but would not be able to sustain it for long. The game was once again tied up at 41-41 with 1:08 on the clock. At the end of the first half the Miracles had lost their lead and were behind 43-44.
Moncton would come out stronger in the third quarter and would lead by as many as 10 points but were unable to maintain it for the whole 12 minutes with Saint John trying to shorten the spread. The Miracles worked well under new head coach Dennis Truax and held the lead all the way to the end breaking the Mill Rats 6 game win streak.
Devin Sweetney led the way for the Miracles with 29 points and 13 rebounds. Micah Brand followed with 20 points and 10 rebounds and Sylvania Watkins with 13 points and 18 rebounds.
Anthony Anderson was the top scorer for the Mill Rats with 28 points. Jerice Crouch was right behind him with 19 points and Sheray Thomas with 17.
Mill Rats Cavell Johnson was fouled out of the game late in the fourth quarter as well as Miracles Sylvania Watkins.
Upcoming Community Events:
The Miracles are offering a Holiday 4 Game Flex Pack. The offer is for 4 tickets for the price of 3 at the low price of $45. The whole family can come enjoy a Miracles game at this discounted price for one of the games between Sunday, December 23rd and Sunday, January 6th. The Holiday 4 Game Flex Pack is available at the Moncton Coliseum Box Office
The Miracles play their next on the road on Thursday, January 3rd against the Saint John Mill Rats. Tip-off is 7pm at the Harbour Station. The next home game is on Friday, January 4th against the Halifax Rainmen. Tip-off is 7pm at the Moncton Coliseum.