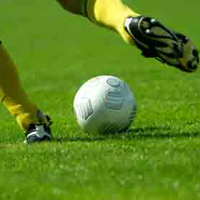 This article was last updated on April 16, 2022
Canada:

Oye! Times readers Get FREE $30 to spend on Amazon, Walmart…
USA:

Oye! Times readers Get FREE $30 to spend on Amazon, Walmart…

Monterrey, Real Salt Lake to decide title Wednesday
Real Salt Lake and Monterrey will decide the CONCACAF Champions League title Wednesday night in Salt Lake City, having fought to a 2-2 draw in the first leg in Mexico on April 20.
Monterrey led 2-1 on goals by Aldo de Nigris and Humberto Suazo before Javier Morales scored a late equalizer to give RSL a valuable draw in the first leg.
Real Salt Lake is looking to become the first MLS team to lift the Champions League trophy in the tournament's three-year history.
The winner will represent CONCACAF in this year's FIFA Club World Cup in Japan in December.
Defence Force advances in Caribbean Club Championship
Defence Force of Trinidad became the second team to reach the semifinals of Caribbean club championship and move within a victory of the CONCACAF Champions League.
Defence Force to beat Guyana's Milerock 3-0 on Friday, sending it into the final four of the CFU Club Champions Cup with a 7-0 aggregate win. That joins it with Alpha United of Guyana, which beat River Plate PR 3-2 on aggregate in its second-round encounter last week.
Defence Force's match was played as part of a doubleheader in which Tempete FC of Haiti won 1-0 in the first leg of its series against Caledonia AIA of Trinidad. Tempete will need only a draw in the second leg in Saint-Marc, Haiti, on Friday, April 29, to advance.
Only one other series remains. The defending champion Puerto Rico Islanders will travel to Suriname to face Walking Boyz on May 7 before returning home for the second match May 14 in Bayamon.
Three teams from the Caribbean club championship will qualify for next season's CONCACAF Champions League.
World Cup qualifying to begin June 3
The 10 lowest CONCACAF teams in the FIFA rankings will face off in two-leg series June 3 and June 7, beginning the region's qualifying process for the 2014 World Cup in Brazil.
FIFA announced on Tuesday the five preliminary round matchups, which is part of a proposal by the CONCACAF Executive Committee still pending full approval from FIFA that includes three group phases.
If authorized by the FIFA Executive Committee at the end of May at its meeting in Zurich, Switzerland, the winners between Montserrat- Belize, Anguilla- Dominican Republic, U.S. Virgin Islands-British Virgin Islands, Aruba-St. Luca and Bahamas-Turks and Caicos Islands would advance to the first group phase.
They would join the next highest 19 teams from the March 2011 FIFA rankings in one of six, four-team groups set to play from September to November later this year. The group winners would then qualify for a three-group semifinal round – tentatively set for June-October 2012 — along with the top six CONCACAF teams from the March FIFA rankings: the United States, Mexico, Honduras, Jamaica, Costa Rica and Cuba.
The top two teams from each of the semifinal round groups would advance to a six-team final round group – referred to by some in previous years as the "Hexagonal" — to be played from February to October 2013. The final round would determine CONCACAF's three guaranteed berths and a fourth team that will enter a playoff with a side from another confederation for another place.
Although not yet approved, the preliminary round winners would be included in a pot at the World Cup Preliminary Draw along with Bermuda.
Three other pots would include teams based on the March rankings. Puerto Rico, Barbados, Curacao, St. Vincent, the Cayman Islands and Nicaragua in one; Antigua, Guyana, Suriname, St. Kitts and Nevis, Guatemala and Dominica in another; and Panama Canada, El Salvador, Grenada, Trinidad & Tobago and Haiti in the last.
Mexico U-17s sweeps Canada in friendly series
The Mexican Under-17 national team defeated Canada 3-0 on Sunday to sweep its North American rival in a two-game series played in Morelia, Mexico.
Jorge Celada scored twice and Marco Bueno grabbed the other goal for Mexico.
On Wednesday, Mexico defeated Canada 2-1. Marco Bueno scored both goals for the hosts.
Mexico will host the FIFA Under-17 World Cup in June. Canada, Panama and the United States also will participate from CONCACAF.
Trinidad to start youth league
The Trinidad and Tobago Football Federation announced recently that it is finalizing a new plan for youth competitions and player development.
A key component of the revamp will be the launching the 2011 TTFF National Youth League on May 1 with competitions in the Under-13, Under-15 and Under-17 age groups.
The league will run at a cost of TT$650,000, with initial funds being provided through FIFA's "Win in CONCACAF with CONCACAF" program. It will be sustained afterwards by additional funding from sponsors and the government. An inter-association tournament for Under-15 and Under-17 representative teams will also be held, aimed towards assisting the national selectors in discovering talent for the national youth teams ahead of future competitions.
Among the teams taking part in the League are Defence Force, Joe Public, 1st Santa Rosa FC, Eagles United, WASA FC, Club Sando, St Francois Nationals, Stokely Vale FC, St Clair Coaching School, 1976 FC Phoenix FC, Roxborough Lakers of Tobago, Mayaro Spurs, Moruga FC, M&M Harvard, Queen's Park Cricket Club, Real Maracas, Westside Stars, Cap Off Youths. Further details on the format and prize structure will be revealed as the May kick-off approaches.
Mexico women score second win in Colombia
The Mexican women's national team defeated Colombia 4-2 on Sunday as part of a tour prior to June's Women's World Cup in Germany.
Two days earlier in Chia, Colombia, Mexico defeated the host 3-0.
Mexico will come together on May 2 for a training camp prior to the World Cup where it will face New Zealand, Japan and England.
National association matches
3.25.2011: Panama City:
PANAMA – BOLIVIA 2:0
3.24.2011: Havana, Cuba:
CUBA – EL SALVADOR 0:2
3.25.2011: Seoul:
SOUTH KOREA- HONDURAS 4:0
3.25.2011: Montego Bay, Jamaica:
JAMAICA – VENEZUELA 0:2
3.26.2011: San Jose, Costa Rica:
COSTA RICA – CHINA 2:2
3.26.2011: Bassaterre, St. Kitts and Nevis:
ST. KITTS & NEVIS – GRENADA 0:0
3.26.2011: New York:
UNITED STATES – ARGENTINA 1:1
3.26.2011: Oakland:
MEXICO – PARAGUAY 3:1
3.26.2011: Havana, Cuba:
CUBA – PANAMA 0:2
3.27.2011: San Salvador, El Salvador:
EL SALVADOR – JAMAICA 2:3
3.28.2011: Mazatenango, Guatemala:
GUATEMALA – BOLIVIA 1:1
3.29.2011: San Jose, Costa Rica:
COSTA RICA – ARGENTINA 0:0
3.29.2011: Nashville:
UNITED STATES – PARAGUAY 0:1
3.29.2011: San Diego:
MEXICO – VENEZUELA 1:1
4.1.2011: St. Georges, Grenada:
GRENADA – ST. KITTS & NEVIS 0:0
5.22.2011: TBD:
CAYMAN ISLANDS – BELIZE
5.28.2011: Seattle:
MEXICO – ECUADOR
5.28.2011: Houston:
EL SALVADOR – HONDURAS
You can publish this article on your website as long as you provide a link back to this page.