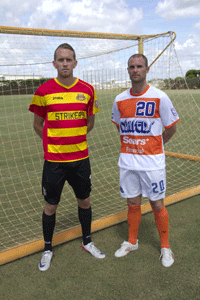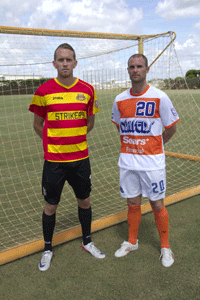 After going five games without a win; FC Edmonton is hoping a change in wardrobe will inspire three points on the road.
The team will be suiting up in the same orange and white jerseys worn by the 1982 Edmonton Drillers of the old NASL on Saturday night against the Fort Lauderdale Strikers and one more time at home against the same Strikers squad on Aug. 14.
The Strikers, formerly Miami FC, went back to their old NASL roots in 2011 and have been wearing jerseys inspired by the original NASL Strikers all season. FC Edmonton would like to honour Edmonton's strong soccer heritage by wearing the Drillers jerseys for the two games.
"FC Edmonton is just one piece of Edmonton's soccer fabric dating back to the Black Gold in 1978," said FCE GM Tom Leip. "The NASL was in town from 1979 to 1982 and the Drillers became a major part of Edmonton's professional sports history. We just wanted to pay homage to that history."
Fans will have a chance to buy their own piece of history at the Aug. 14 home game at Foote Field. A limited number of the replica jerseys will be available for sale.
The Drillers logo will be prominently displayed on the players' chests along with an FC Edmonton badge on the right sleeve and an NASL logo on the left.
"We're playing in Drillers' uniforms for the two games but we're still FC Edmonton," Leip said. "And we're in the process of creating a little history of our own. We simply want to acknowledge the teams that paved the way for us here in the City of Champions."
OTHER FACTS:
– This will be the first time the two teams have faced each other since the season opener on April 9 at Lockhart Stadium. FC Edmonton won that contest 2-1 thanks to goals from Shaun Saiko and Daniel Antoniuk.
– This is FC Edmonton's third match in eight days, part of a 10-day road trip.
– FC Edmonton is currently on a three-game losing streak.