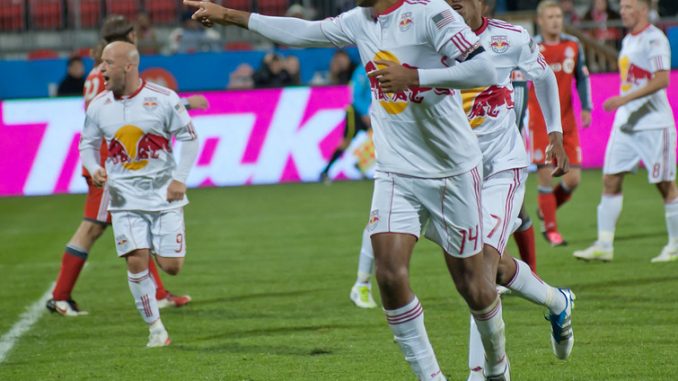 Thierry Henry Scores Late to Give Red Bulls Important Point

It's the same old story and it is getting tiresome if you're a Toronto FC supporter.
Once again Toronto gave up a late goal off a set-piece and another impressive effort was erased. Suddenly three points became one and the frustration could be seen on the faces of the entire team as the Reds settled for a 1-1 draw against the New York Red Bulls at BMO Field.
TFC striker Danny Koevermans gave his club a 1-0 lead early in the second half, but Thierry Henry demonstrated some fancy footwork in the 88th minute off a corner kick to tie the game.
TFC looked to be on its way to exacting revenge for 5-0 drubbing earlier this season, but instead the Red Bulls earned a much needed point to keep pace in the tight Eastern Conference playoff race. Technically still mathematically alive before the match, TFC was officially eliminated from playoff contention with the draw.
"It happened to us again," said forward Peri Marosevic. "In the 88th minute like that you got to stay focused, you got to stay with your guy. Obviously, this was a little tough to take because we thought we had the win."
"Set-pieces have brought us some trouble. We got to stay focused, stay clicked in and we got to stay tight to our marks. Giving up a goal like that where you feel like you have the win under you're belt, it's a little tough to take."

Head Coach and Technical Director Aron Winter was very frustrated with his team's ability to defend set-pieces and lack of concentration late in games despite preparing his team well in practice.
"Up until 5 minutes before the end of the game I think that they played very well," said Winter. "We did not give much away but at the end, we were winning one nil. Again, before the game ends, again with a corner, a set piece we are not sharp enough. It's a pity because we deserved more."
"We are training for it and even with set pieces you need to be closer to your man, you can show it, you can practice it but at that certain moment you are always making the same mistakes like on the corner kick."
Added Marosevic, "Everybody knows their role, everybody knows what they have to do. Obviously they prepare us well for them – they tell us who to mark, where to go, where to be – it's just that point of being mentally focused in that moment, the full 90 minutes. We just didn't do it today."
Tactical Change
The first half of the match didn't see either team create many chances and the Red Bulls looked tentative and not like a team that was desperate for a win to stay in the playoff race. TFC carried the play for the most part, but it was New York that had the best chance late in the half when defender Roy Miller lobbed a cross to forward Luke Rodgers who headed the ball on goal. However, he was denied by TFC keeper Milos Kocic who dove to his right and was able to get a hand to the ball.
A short while later TFC made a counterattack and Koevermans from the top of the 18-yard box fired a strike that barely cleared the crossbar.

The second half saw the game open up after Koevermans opened the scoring in the 50th minute. The play started when Red Bulls midfielder Rafael Marquez gave up the ball in the midfield to TFC's Ryan Johnson. The forward ran towards the defence and made a touch to go right but side-footed a pass to his left where a cutting Koevermans was wide open. He then made a touch and turned around to slot the ball past goalkeeper Frank Rost just inside the far post to make it 1-0.
As time ticked down in the second half, Winter decided to employ a defensive strategy to protect the team's 1-0 lead. The Red Bulls were able to create chances and almost all the opportunities were sparked by Henry.
In the 64th minute, from the edge of the box and his shot on goal was stopped by Kocic who dove and managed to just get his hand on the ball. Two minutes later, Henry slided a great pass between two TFC defenders to Rodgers but defender Andy Iro was able to disturb him just enough to force the Red Bulls forward to shoot over the goal.
Winter then was forced to sub off Koevermans who suffered a knock to his knee in the 71st minute and replaced him with former Red Bull defender Danleigh Borman. By this moment his players had all dropped back to help defend the lead and offered little resistance toNew York from upfront. All of a sudden the Red Bulls were attacking and taking risks by throwing players forward were rewarded with scoring chances.
In the 81st minute, Dane Richards got a step ahead of the defence and looked to have a clear chance on goal before Iro brought down the Red Bulls midfielder. Richards appealed to the referee for a penalty but instead signalled a corner kick. Replays clearly showed that Iro had missed the ball completely and that it should have been a penalty.
The Red Bulls then made a change of its own bringing in dangerous young striker Juan Agudelo. Winter, seeing the Red Bulls pressure his squad and obviously knowing his team has a penchant for giving up late goals, decided to remove striker Johnson in the 84th minute and brought in defender Doneil Henry.

However, the Red Bulls finally got the equalizer it was looking for in the 88th minute on a world class play by Henry. The French striker Henry was able to hit a deflected ball up with the top of his right foot and then in one motion controlled it in the air, spun and used his left foot to slot the ball past a diving Kocic.
After scoring his goal, Henry taunted some fans behind the TFC goal and then flexed his arms in their direction as he was loudly booed. Henry refused to answer questions about the incident after the game by only saying, "Nothing. 1-1, that's all I want to say."
Henry was confused, however, as to why TFC dropped back instead of continuing to play an attacking game.
"I think they allowed us to do it because they just dropped – I don't know why," said Henry. "I think if they carried on playing the way they were playing, especially with (Juan) Agudelo coming on and we're not defending with a lot of defenders, to be honest. And instead of passing the ball through the line and hurting us they were just kicking the ball and giving us the ball back."
"That allowed us to put pressure on them and have some more opportunities and thankfully for us we came back into the game… Sometimes if you allow a team to put pressure again, again and again, then eventually, we score."

Henry did give praise to TFC and its new look lineup that was completely overhauled shortly after the last meeting between the two clubs.
"They look good on the ball," said Henry. "I think (Torsten) Frings coming here and Koevermans and the right back (Matt) Stinson had an amazing game. I think if they could have had that group together before and played the way they have been playing the last two months they would be fighting with all the teams to be in the playoffs. But sometimes it takes time."
"Look at us, we're kind of struggling. People thought we were going to cruise it, sometimes that's not the way the game is. You need to play as a team and sometimes that's the most important thing."
The Red Bulls still hold the final playoff spot in the Eastern Conference, albeit by a slim margin, holding just a two point lead on sixth place DC United and three points on seventh place Chicago Fire. However, the top five teams are only separated by five points with Sporting Kansas City ahead of the pack with 45 points.
Toronto will now play out the string with only one more meaningful match left in the CONCACAF Champions League. The team will enjoy a two-week break and will play next on October 15 on the road against the Philadelphia Union. Kickoff at PPL Park is scheduled for 4pm ET.

To follow me on twitter click HERE
Download or stream
the 500 Level podcast with co-hosts Aman Dhanoa and Ben Trattner as they discuss news, opinions, and views on Toronto sports from the Upper Deck. Leafs, Raptors, Jays, Argos, TFC – nothing is off limits. It's good to be a fan!
Also available on iTunes
Contact Aman Dhanoa at aman@oyetimes.com
Photos courtesy of John Lucero and JP Dhanoa