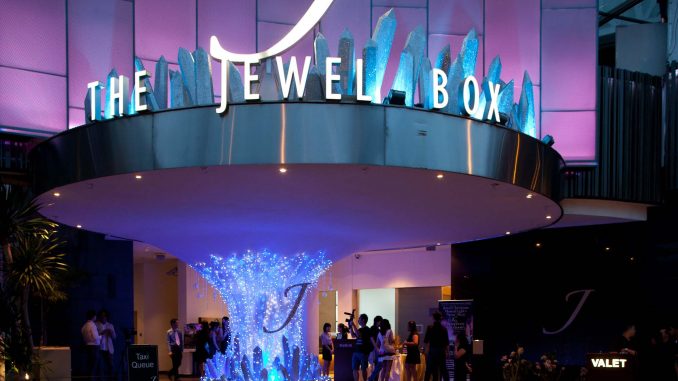 This article was last updated on April 16, 2022

Enjoy an exquisite pairing of gourmet delicacies and world-class wines on 12 March Singapore, 27 February 2013 – The Jewel Box, in partnership with Monopole Pte Ltd, is serving up a gastronomic evening of fine Shaw+Smith wines and cuisine this 12 March.
For one night only, feast on a carousel of flavours at the Private Dining Room, formerly known as Empress Jade, while soaking up the gorgeous view atop Singapore's iconic hilltop destination.
The Jewel Box has created an exquisite four-course dinner to complement the fine selection of Shaw+Smith's wines for a set cost of $98++ per person. Hosted by Australia's first Master of Wine,owner cum chief winemaker Michael Hill Smith, the dinner marks Smith's only appearance during this Singapore visit and will feature six highly acclaimed wines from the Shaw+Smith Vineyards in Adelaide Hills, Australia. These include the highly acclaimed Shaw+Smith Shiraz 2007, Shaw+Smith Shiraz 2010, Shaw+Smith M3 Chardonnay 2010, all three rated above 95 points by senior wine critic James Halliday. Also, be among the first in Singapore to savour the Shaw+Smith M3 Chardonnay 2012, an exquisite wine that is yet to be launched.
"Poised high on Mount Faber and offering stunning sea views, contemporary elegance and innovative fine dining, The Private Dining Room offers the perfect relaxing ambience to enjoy a dinner of tantalizing delicacies paired with Shaw+Smith's aromatic wines. This is our third wine pairing event and once again, we can promise an evening of breathtaking view, great company, exquisite food and world-class wines," said Mr Adrian Wong, F&B Director, Mount Faber Leisure Group.
The dinner will start off with a selection of canapés paired with Adelaide Hills Wine Show's gold medal winner, Shaw+Smith Sauvignon Blanc, 2012. Allow the refined taste of passion fruit and citrus whet your appetite as you enjoy the following amuse bouche (chef's teaser).
The next course consists of Variations of Tasmania Ocean Trout further enhanced by the flavours of Shaw+Smith M3 Chardonnay, 2010 and Shaw+Smith M3 Chardonnay, 2012. Savour the taste of the sea while sipping on the white wine that seamlessly combines the aromas of delicate floral and citrus fruits. These fresh and intense flavours are followed by our chef's Homemade Spattlecock Pie with Wild Mushrooms, Leeks Salad and Rice Wine Vinaigrette.
As the highlight of the evening, guests will enjoy a Composition of Australian Short Ribs perfectly matched with the full-bodied Shaw+Smith Shiraz, 2010 and Shaw+Smith Shiraz, 2007. As a sweet finish, guests will be treated to Pavlova with Lemon Syllabub and Mix berry Compote. An exclusive event that will satisfy every food fanatic and wine lover, the Shaw+Smith Dinner is a unique experience not to be missed.
Event: Shaw+Smith Dinner at The Jewel Box
Date: 12 March 2013
Time: Pre-dinner cocktails will be served at 7pm
Venue: The Private Dining Room (Previously known, Empress Jade)
The Jewel Box, Level 3
Bookings: Call 6377 9688 to make reservations
Price: $98++ per person, $80++ for Jewel Card members
More details: www.mountfaber.com.sg
You can publish this article on your website as long as you provide a link back to this page.