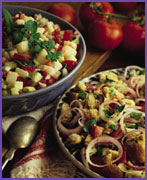 Ingredients:
1 red capsicum, de-seeded and cut into four
1 green capsicum, de-seeded and cut into four
2 onions, cut into thick rings
1 zucchini, sliced thickly at an angle
2 tomatoes, halved
1 aubergine, sliced thickly
3 tbsp balsamic vinegar
2 flakes garlic, chopped
5 g fresh basil
salt and pepper to taste
Method:
Heat a little olive oil in a pan and quickly fry the vegetables a little at a time until slightly blackened.
Keep basting with oil until all the vegetables are charred.
Add a little more olive oil, the balsamic vinegar, the chopped garlic basil leaves and season to taste.
Toss lightly together and allow to cool.