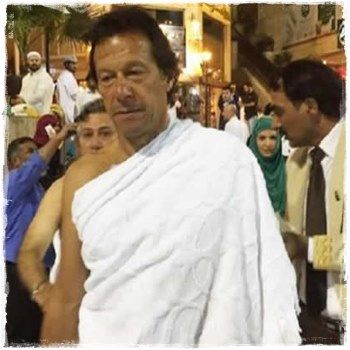 Pakistan Tehreek-i-Insaf (PTI) Chairman Imran Khan and his wife Reham performed Umrah on Wednesday night; the couple left for Umrah early morning Wednesday, the news went viral about the newly-wed couple circulating on Twitter.
Imran Khan who recently got married to Reham Khan is performing Umrah nowadays. The PTI officials took to Twitter to congratulate the chairman and his wife for this positive move. The couple has been seen in the traditional Ihram, a state in which pilgrims wear special outfits: two-piece seamless garments for men and any loose dress for women, who are permitted to reveal hands and faces only.
The PTI's chief also met Pakistan Awami Tehreek's (PAT) chief Dr. Tahir ul Qadri while in Saudi Arabia who is also performing Umrah for the past two days.
It is also reported that both leaders will bring some light to the unsolved political situation of the country. Worshippers who are present at Makkah seemed excited when saw the couple there and are seen taking pictures of Imran Khan and Reham Khan inside Masjid al Haram in Makkah. Crowds surround the PTI chairman in Makkah.
Click HERE to read more from Fashion Central.