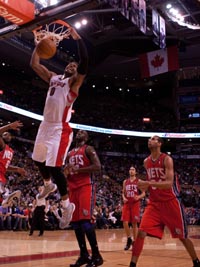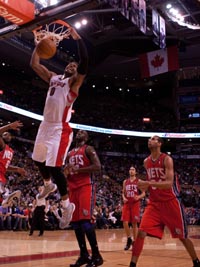 Four Nets players watch as
Raptors forward James
Johnson throws down
an emphatic dunk
12th Annual Baisakhi Day Celebrated at ACC
At this time of the season, teams are either jockeying for playoff position or playing out the string. Sunday night featured a matchup of the latter, as the Toronto Raptors hosted the New Jersey Nets at the Air Canada Centre. Not exactly a stellar matchup, as both are languishing in the bottom of the Eastern Conference.
Last night neither team had much to play for, other than pride and potentially showing their employers that they are worthy of a roster spot for next season. Interestingly, since both teams were so depleted by injuries, the players who were available took full advantage of the extra minutes.
The young Raptors (22-58) had a great first half shooting over 65% while the Nets (24-56) struggled offensively and defensively. Toronto was flying high in the first half throwing down numerous dunks and built up a 19 point lead after two quarters. After an even third quarter, the Raptors led by 20 points heading into the fourth.
Toronto made many turnovers in the second half including seven in the final 12 minutes and nearly saw their big lead slip away – something that has plagued the Raptors all season long.
Fortunately, for the 17,755 fans in attendance, the Raptors were able to hold off the Nets late charge and come away with a 99-92 victory.
"Well, the guys are still having fun, still trying to win every night," said Raptors centre Ed Davis. "It's tough to be on a losing team, we really aren't playing for anything right now. It's still fun."
Toronto had a balanced attack with five different players reaching double figures compared to just two for the Nets. Starters Davis, James Johnson and DeMar DeRozan each had 18 points while Jerryd Bayless had a team-high 19 points. Julian Wright seeing some major minutes for once scored ten points off the bench. The other starter, Reggie Evans had five points to go along with a game-high 15 rebounds.
Aside from leading his team in scoring, Bayless ran the floor well and tried to get his teammates involved in the first half.

Raptors guard Jerryd Bayless
looks to distribute the ball
during last night's game
"Tonight I was really trying to get everybody going," said Bayless. "That was one of the things that I was trying to do tonight. A lot of times, coach (Jay Triano) just wants me to be aggressive so if he wants me to do that I'm going to try and do that to the best that I can, and hopefully it works out."
New Jersey centre Brook Lopez scored a game-high 35 points and 11 rebounds. The only other double-digit scorer was guard Sasha Vujacic who added 19 points to Nets cause.
"It never really felt like we were out of it," said Lopez. "We felt like we could make a little run to make the game interesting and give us a chance. We did that but it might have been a bit late. We made some mistakes but we gave ourselves an opportunity."
Despite a great fourth quarter, the Nets dug themselves quite the hole after playing so poorly in the first half.
"We had such a bad first half in every way," said Nets coach Avery Johnson. "We didn't play good on either side of the ball. We weren't very good in the third quarter either but we put together a pretty nice fourth quarter. Only allowing them to score 38 points in the second half was big for compared to 61 in the first half."
The Raptors turned the ball over 20 times which lead to 27 points for the Nets. In comparison, the Nets had just ten turnovers leading to 12 points for the Raptors. On the glass, however, the Raptors outrebounded the Nets 45-31 and had a marginal edge on points in the paint and fast-break points. While the Nets dominated second-chance points 28-16.

Walking Wounded
The list of injured Raptors was quite long as Jose Calderon, Andrea Bargnani, Amir Johnson, Sonny Weems and Leandro Barbosa sat out with injuries. Forward Linas Kleiza has been out since February after undergoing knee surgery. Of the nine men who could play, Raptors coach Jay Triano used everyone except for Solomon Alabi. Perhaps if the Nets hadn't made a late push, Alabi could possibly have seen some 'garbage' time as well.
"I said to the players let's embrace this, let's not look at it like we have guys hurt, let's embrace it," said Triano. "Guys are going to get the chance to play. You are going to make mistakes, you are going to stay in games if you do, but play the right way and share the basketball. I thought the first half we did that."
Not to be outdone, the Nets were without the services of star point guard Deron Williams, former-Raptor Kris Humphries, Sundiata Gaines, Damion Jones and Anthony Morrow. Williams is scheduled to undergo wrist surgery on Monday.
With all the injuries to the lineup, Bayless has stepped up and played well the past few games whether it has been in the starting lineup or off the bench.
"I know what I'm able to do, it's just the opportunity," said Bayless who struggled for most of the season.
"I'm just happy that I'm getting this opportunity and hopefully it continues. I think I've had great teachers with Andre Miller, Chris Paul and now Jose (Calderon). I've learned a lot from all of them and hopefully this opportunity continues. I just want to be here for a long time."

Raptors centre Ed Davis (left)
talks to Raptors super-fan
Nav Bhatia (right) before
the second half
Sunday night also marked the 12th annual Baisakhi Day celebrated by the Raptors at the Air Canada Centre. The day always falls on the last Sunday game in the Raptor schedule and was organized by the one and only Raptors super-fan Nav Bhatia.
Baisakhi is an ancient harvest festival in the Punjab region of India where farmers celebrate the day by performing bhangra and gidda dance. In many other parts of India the day marks the beginning of the new solar year and harvest season. Baisakhi is also a Sikh religious festival that typically falls on April 13 commemorating the foundation of the Order of the Khalsa in 1699 by their tenth Guru, Guru Gobind Singh.
For Bhatia, it's a way of bringing people together.
"Like Diwali, it's not just for Hindus. Baisakhi is universal for everybody, we have to share with each other," said Bhatia.
"We had over 2,000 kids, people from various temples. I believe it's still important from our angle that we could integrate into the mainstream and we use the good tool of basketball to promote that. As you can see the players are coming over and giving us love."
During halftime there was a special performance as dancers performed bhangra and gidda to the delight of the crowd at the ACC.
Click HERE to view the pictures of Baisakhi Night at the ACC – 2011
The Raptors are back on the road tonight as they take on the Milwaukee Bucks before returning home to host Chris Bosh and the Miami Heat on Wednesday night in their regular season finale.

Bhangra and gidda dancers perform during
halftime as part of Baisakhi Day at ACC
To follow me on twitter click
HERE
Download or stream
the 500 Level podcast with co-hosts Aman Dhanoa and Ben Trattner as they discuss news, opinions, and views on Toronto sports from the Upper Deck. Leafs, Raptors, Jays, Argos, TFC – nothing is off limits. It's good to be a fan!
Also available on iTunes
Photos below courtesy of JP Dhanoa
Contact Aman Dhanoa at aman@oyetimes.com

Article viewed at: Oye! Times at www.oyetimes.com