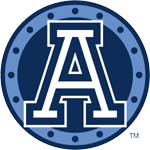 The Toronto Argonauts Football Club welcomed home Toronto native LB Tristan Black today in a trade with the Calgary Stampeders. In exchange, the Argos sent Calgary the rights to a negotiation list player (DL Corey Mace).
Commented Argonauts' Head Coach Jim Barker, ""Tristan is a guy we drafted high when I was in Calgary. He is coming off the 9-game injured list, is healthy and can contribute right away on our Special Teams. We had to give up the rights to a good player to get him but we feel confident that this is the right move for our organization. I look forward to seeing Tristan on our practice field with our team after the bye week."
Commented Black, "I am very grateful for the opportunity to play for a team like the Argos and a coach like Jim Barker. I originally met Coach Barker at a college all-star game in Virginia and immediately took a liking to him as a person. This trade has put me in the best possible situation imaginable for a Canadian linebacker, not only because of the scheme but because of the fact that I will get to learn from two future hall of fame linebackers every day in Kevin Eiben and Mike O'Shea. I grew up watching the Argos and they were one of the main reasons I started playing football. It will also be fun to play with some of the guys I played against in minor football. This is a good team and I just want to bring the tools that I have to help make the team even better."
Black was Calgary's 2nd Round (16th overall) pick in the 2009 CFL Canadian Draft. He played in five games as a rookie and recorded eight defensive tackles and four special teams tackles. The Central Tech High School and Scarborough Thunder alumnus played three seasons at Wayne State where he was a team captain and named Second-Team All-Conference as a senior.
Tristan Black
Linebacker
6'3", 243 lbs.
Wayne State
Born: April 4, 1984
Toronto, Ontario
1st Year Argos / 2nd Year CFL
Non-Import
Acquired: Acquired by Toronto in a trade with Calgary on August 21, 2010 in exchange for the rights to a negotiation list player (DL Corey Mace).
2010: Attended training camp with the Stampeders and added to team's 9-game injured list.
2009: Invited to CFL Evaluation Camp in Toronto…Selected by Calgary in the 2nd Round (16th Overall) in the 2009 CFL Canadian Draft…Signed with Calgary on May 29…Attended training camp with the Stampeders and dressed in five games as a rookie before being sidelined by injury. ..Finished season with 8 DT and 4 ST tackles…Made his CFL debut in Week 1 vs. Montreal (01/07/09) and blocked a punt, made 4 DT and 1 ST tackle.
College: Played three seasons (2006-08) at Wayne State and one season at Saginaw Valley State (2005)…Career totals include 289 tackles (ninth on team's all-time list) and 11 sacks…2008 Named a team captain as a senior…Recorded 101 total tackles and four sacks…Named Second-Team All-Conference squad…Received the team's 'Ultimate Warrior' award for outstanding work in the weight room.
Personal: A Toronto native, Black attended Central Tech High School and was a two-time Toronto Star All-City selection. Tristan played one season of CEGEP football at Montreal's Vanier College (a prep school) before enrolling in college. His younger brother Everton is a linebacker for the University of Manitoba Bisons and played for the North Toronto Wildcats. Tristan spent summers playing with the Scarborough Thunder. Tristan was very involved in community football initiatives while with the Stampeders.