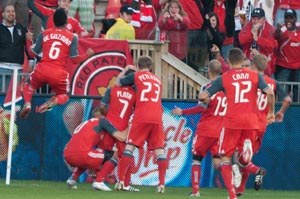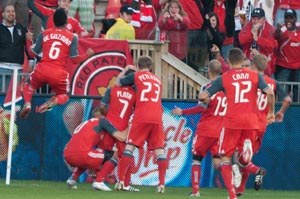 Toronto FC celebrate Joao Plata's
penalty kick goal
Plata Kickstarts TFC Offence for First MLS Goal & Sets Up Game-Winner


A new fan favourite has emerged for the Toronto FC faithful.
His name is Joao Plata. If you don't know him, well you soon will.
The diminutive speedster was all over the pitch last night and put in a memorable performance in his first professional start. TFC played a complete team game and overwhelmed the visiting Houston Dynamo 2-1 in front of 20,259 fans at BMO Field.
After playing well in two Nutrilite Canadian Championship games against FC Edmonton in the past ten days the 19 year-old earned his way to the starting XI and he made it count. He scored his first MLS goal in the second half and then set up the winning goal by captain Maicon Santos.
Plata, who was selected 49th overall by TFC in the 2011 MLS SuperDraft, was still smiling ear-to-ear after the game.

5'2 Plata sneaks past 6'1 Dynamo
defender Eddie Robinson
"I am very happy but the most important thing is that we got the three points and the win for the team," said Plata through a translator.
After scoring the goal, the Ecuadorian ran over to coach Aron Winter as part of his celebration.
"I was very, very happy and before the game I said that if I scored a goal I was going to dedicate the goal to the coach in response for the confidence that he has had with me," added Plata.

Winter was very impressed with the play of his young striker and his ability to shine under pressure while taking a penalty kick.
"Plata played very well tonight," said Winter. "I was also very happy that he made the penalty. Like I said you have to be careful with those plays because he is still young and this is a tough league and today he had an opportunity to play less than 90 minutes."
Winter had even more praise for how his club played a complete game.
"We played well like a team today," said Winter. "Everybody, and also the subs that came in, they all helped to get the victory and I am satisfied about it. Compliments to not only the team spirit but also to the way we played today."

TFC coach Aron Winter is all
smiles after the victory
"It was one of our better games but we are still rebuilding. But I am satisfied about the way we react especially after our last game away against Seattle. That is why I am very happy, not only about the team spirit but also the way we played."

Spot On
The first half did not see a lot of opportunities for either team. Toronto had the best chance in the 11th minute when Julian de Guzman unleashed a long range strike that Dynamo keeper Tally Hall just tapped over the net. Meanwhile, Houston employed a typical road game strategy and looked for opportunities to push forward but spent most of the opening 45 attempting to neutralize the TFC attack.
All the noteworthy action took place in the second half as fans witnessed all sorts of drama before the final whistle was blown. The Reds wasted no time in attacking the Dynamo goal with Jacob Peterson coming close in the 47th minute but was stopped by an outstretched Hall to keep the game scoreless.
Just over two minutes later, Nick Soolsma from the right made a nice move to his left to easily get around Eddie Robinson. Then Soolsma got his heels clipped from behind by defender Andre Hainault inside the box sending the forward to the turf. Referee Jorge Gonzalez wasted no time in pointing to the spot signaling a penalty kick.

Plata gets set to strike his penalty kick
Plata was chosen with the pressure-filled task of taking the penalty but he calmly stepped up and roofed the ball right down the middle. Hall dove to his left but had no chance. With one swift strike Plata scored his first MLS goal to give TFC a 1-0 lead.
In the 61st minute, Plata chased down a ball played overtop and just got his foot on it when a charging Hall knocked Plata down. The referee quickly ran forward and showed Hall a yellow card. Everyone believed that TFC was about to be awarded another penalty kick. However, Gonzalez consulted with the linesman who raised his flag for offside. Then, in a rare and surprising move, the referee decided to overturn his original decision.
Gonzalez came over to explain his rationale to Winter but the coach was still perplexed as what happened.
"It was a strange decision because he saw it well, he said that it was a penalty but the linesman saw something different," said Winter. "It was strange. For me it was a penalty."
In the 81st minute, Plata was up front creating once again. He made a quick run towards Robinson and then put the ball ahead to Maicon. The captain, who made a timely run, received the pass, and while being closely defended by Corey Ashe, still managed to left-foot the ball just out Hall's reach to give the Reds a 2-0 lead.

Maicon and Plata celebrate after the
captains game-winner
Plata clearly ecstatic egged Maicon into a post-goal celebratory dance and then jumped up to hug the captain. With that kind of energy it's no secret why Plata is quickly becoming a fan favourite.
In the 87th minute, Houston pushed forward and created chances of its own. MLS Player of the Month for April Brad Davis snuck into the box from the left and let go a hard left-footed strike but Stefan Frei made a huge save.
Off the ensuing corner kick, Koke stopped the ball from going out of bounds and then passed to the top of the box where Lovel Palmer one-timed a shot that was drilled underneath a diving Frei. The goal gave Houston hope but Toronto was able to close out the match for a 2-1 victory, only their second of the season. The previous win was 2-0 over Portland in the home opener.
Plata was taken out of the game in the 92nd minute to a standing ovation from the fans. After the game players walked around the pitch to salute the crowd and to nobody's surprise, Plata was announced as the Man of the Match.
Toronto will not have much time to rest as the club is back in action in another midweek game when it travels to Texas to take on FC Dallas on Wednesday night. Kickoff is at 9pm ET at Pizza Hut Park.


Frei dives to intercept a cross late in the 2nd half

Game Notes:

Toronto – Stefan Frei; Mikael Yourassowsky, Adrian Cann, Dicoy Williams, Richard Eckersley; Julian de Guzman, Tony Tchani, Jacob Peterson (Matt Gold 76′); Joao Plata (Dan Gargan 90′), Alan Stevanovic (Maicon Santos 75′), Nick Soolsma
Substitutes not used: Milos Kocic, Danleigh Borman, Ty Harden, Nathan Sturgis

Houston – Tally Hall; Andre Hainault, Eddie Robinson, Bobby Boswell (Colin Clark 75′), Hunter Freeman (Corey Ashe 75′); Brad Davis, Lovel Palmer, Geoff Cameron, Je-Vaughn Watson; Cam Weaver (Will Bruin 62′), Koke
Substitutes not used: Tyler Deric, Mike Chabala, Kofi Sarkodie, Jason Garey
Goals: Toronto – Plata 50′ PK, Maicon 81′ … Houston – Palmer 87′
Caution:
Toronto – Williams 42′ Eckersley 88′ … Houston – None.

Plata runs to the corner to celebrate
his first MLS goal
To follow me on twitter click
HERE
Download or stream
the 500 Level podcast with co-hosts Aman Dhanoa and Ben Trattner as they discuss news, opinions, and views on Toronto sports from the Upper Deck. Leafs, Raptors, Jays, Argos, TFC – nothing is off limits. It's good to be a fan!
Also available on iTunes
Photos below courtesy of Wilson Lo
Contact Aman Dhanoa at aman@oyetimes.com

Article viewed at: Oye! Times at www.oyetimes.com