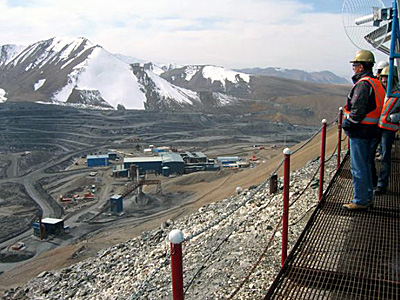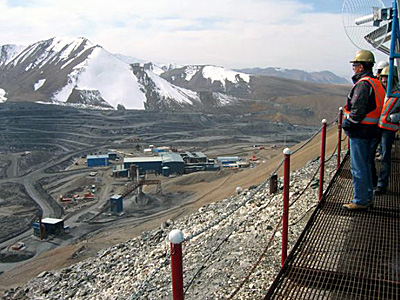 Centerra Seeks Gold from Turkey to Mongolia
Gold has long lured adventurers to uncharted territories. But while the trades are full of stories about Africa, Centerra Gold Inc TSX:CG demonstrates the potential of Asia. In the Kyrgyz Republic on China's western border, the company's Kumtor Mine prepares to add an underground operation to its open-pit gold producer. Its Mongolian operations include a mill working its way through years of stockpiled ore and a new gold mine waiting for final approval. Then there are the JVs spread as far afield as Turkey, China and eastern Russia and even Nevada.
"There are a couple of other, small-scale operations in the Kyrgyz Republic, but we're probably 95% of the gold production in that country and about 45% to 50% of the country's industrial output," saysCenterra President/CEO Steve Lang. "There, like Mongolia, we're 100% owners. When we step out into Russia, Turkey and China, we move into joint ventures. Overall, there's a lot of gold in Asia but not much competition."
To support his point, Kumtor shows proven and probable reserves of 6.28 million gold ounces, measured and indicated resources of 4.13 million ounces and an inferred resource of 2.75 million ounces. The mine produced 567,802 ounces last year, with about 600,000 projected for 2011. Cash costs per ounce are now $474.
"Over the last 12 months our drilling added about four years of operation, raised the average life-of-mine grade and lowered the strip ratio," Lang says. "We've got quite a bit of unexplored ground still on our licence, and we're picking up additional packages immediately adjacent to the Kumtor package."
The underground operation, scheduled to start in 2013, is expected to result in a 35% to 40% production increase.
Mongolia has also proved bountiful, if challenging. Centerra's Boroo Mine produced around 1.5 million gold ounces from 2004 to November 2010, when it closed. The plan was to immediately start a new open-pit gold mine at Gatsuurt, 55 kilometres away. At that point, however, the company hit an obstacle—the 2009 Water and Forest Law, which now blocks the project. The government had approved Gatsuurt's feasibility study in March 2008.
As VP Investor Relations John Pearson says, "The site is completely prepared. We have the admin buildings on site; the trucks fleet has been purchased; the road connecting the Gatsuurt mine site to the Boroo mill is complete. Everything is ready to go." He adds, however, "Until the government and parliament resolve the issues with that particular piece of legislation, Gatsuurt is currently on hold waiting the final approval."
Other mining companies have also run afoul of the Mongolian government. The most recent wasIvanhoe Mines TSX:IVN, 49% owned by Rio Tinto, which is building Ivanhoe's Oyu Tolgoi Mine in Mongolia. Last September, the government demanded an increase in its 34% interest, despite an agreement preventing it from doing so until 2039. The miners stood their ground. In early October, the government appeared to relent in a public statement reaffirming support for the project.
Meanwhile, Centerra's Boroo mill keeps busy processing a stockpile built up before its adjacent mine closed. Even without Gatsuurt, the mill will process an estimated 50,000 to 60,000 ounces in 2011, with an incremental gain next year. "At the current gold price, our stockpiles will probably last two or three more years," says Pearson.
In northeastern Mongolia, some 800 kilometres from Boroo, Centerra drills its Altan Tsagaan Ovoo Prospect. Assays announced July 11 include
3.91 grams per tonne gold, 10.81 g/t silver, 0.87% lead and 1.08% zinc over 113.5 metres
2.89 g/t gold, 6.52 g/t silver, 1.04% lead and 1.1% zinc over 147 metres
2.09 g/t gold, 8.32 g/t silver, 0.81% lead and 1.58% zinc over 196 metres
2.15 g/t gold, 12.95 g/t silver, 0.32% lead and 0.52% zinc over 183.4 metres
"We'll have a resource estimate on that at year-end," Lang says. "It's still fairly early stage but an exciting project."
"We are trying to spend something close to $60 million a year. If we can do that consistently over a period of time, tha should lead to million and a half ounces of annual production" – Steve Lang
The company's other Mongolia project is the Sumber Joint Venture with Altairgold LLC, in which Centerra may earn up to a 75% interest in the former gold mine.
In the Russian republic of Tyva, bordering northwestern Mongolia, Centerra holds a 50% interest, with an option to earn a further 20%, in the Kara Beldyr Gold Project, where drilling is underway.
In Turkey, Centerra's JV with Eurasian Minerals TSXV:EMX allows up to a 70% interest in the Akarca, Samli and Emali projects.
Another Turkey JV, with Stratex International, offers Centerra up to 70% of the Oksut Project, which has an Australian JORC (non-43-101) resource estimate of 163,849 gold ounces indicated and 153,407 inferred.
In Nevada, the company acts as project operator for the Tonopah Divide Gold Project, in which it holds a 60% interest under an option with Tonogold Resources. Centerra may also earn a 75% interest in another Nevada JV, the Oasis Gold Project, with Redstar Gold TSXV:RGC.
Finally, Centerra has signed a letter of intent for another JV, the Laogouxi Gold Project in northeastern China.
"We want to keep expanding our exploration," Lang says. "This year we're at about $40 million. We're trying to spend something close to $60 million a year. If we can do that consistently over a period of time, that should lead to a million and a half ounces of annual production. To do that, we need to continue adding projects in the early exploration level."
Earlier this month, Centerra posted revenue of $772.4 million for the first three quarters of 2011, up 46% over the same period last year. Net earnings for that period were $291.5 million, $1.23 per share, while 3Q net earnings were $83.5 million, $0.35 per share. Third quarter gold production was 154,936 ounces at $556 per ounce. The company's cash and equivalents were $271.7 million.
At press time, Centerra had 236.3 million shares trading at $20.59 for a market cap of $4.87 billion.