Now a No Entry's sequel has been nixed by writer-director Anees Bazmee, Fardeen Khan, who could have made a comeback with it, may have to wait for a while more for a comeback, if at all he is interested in making one.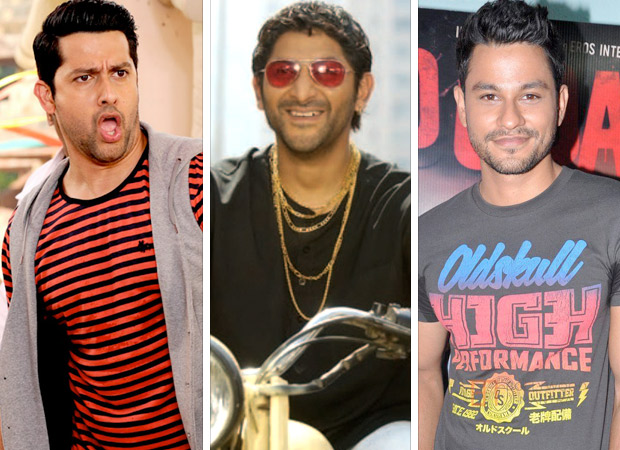 In the environs of today's Hindi cinema, where economics are increasingly ruthless, most films (unless they revolve around debut-making stars of a high-profile nature, like a Jhanvi Kapoor or Karan Deol) now feature tried-and-tested faces from superstars to the Kartik Aaryan and Disha Patani levels.
Here's looking at 10 actors who will be considered for big films only when these sequels are made, so that the brand and the resultant ensemble cast compensate for the individual lack of commercial appeal.
Make no mistake: all these guys are talented, many of them, in fact, super-talented—after all, they have contributed sizably to the brands and made the films and their sequels viable propositions. They have etched and created memorable characters on screen.
But it's just one of those ironies: none of them sell. And not all of them would like to opt for television or the web.
Aashish Chaudhary: Aashish Chaudhary has found his calling on the small screen with the Colors' detective serial Dev and now its second season Dev 2. His only forthcoming film is Total Dhamaal, the third film in the Dhamaal franchise, as the meek young Parsi boy who can be excruciatingly funny.
Aftab Shivdasani: Almost two decades back, he made his lead debut in Mast after completing a dozen years as a child artiste. And though Aftab Shivdasani had a solo hit in the 2001 Kasoor and some more good performances, his career largely hinges on Awara Pagal Deewana (2002) and Masti (2004). Grand Masti was another ace, though its third installment Great Grand Masti signaled the end of that franchise. But now, with the sequel of Awara… being worked upon, we may see him shine again as the timid dentist.
Arshad Warsi: No matter what he does, Arshad Warsi just cannot live down his Circuit in the Munna Bhai franchise and his volatile Madhav in the four Golmaal laughatons. Happily, it will be just a matter of time before both the next Munna Bhai and Golmaal films happen. And until that, the third film in another comic series in which he rocked, Total Dhamaal, will keep him in the news!
Kunal Khemu: The newest addition to the Golmaal franchise (he entered as a brat in Golmaal 3), Kunal Khemu might another get small boost if directors Raj & DK actually get down to the sequel to their cult comic classic Go Goa Gone, which they have announced after many years of rumors.

Riteish Deshmukh: This talented actor is a typecast favourite in comic series despite sensitive performances. Housefull 4 has him, so does Total Dhamaal, and we do not know if he will even get a second role as intense as Ek Villain. Yes, two more of his comic series have been now derailed irretrievably—the erotic Masti and the even more erotic Kyaa Kool Hain Hum brands (he opted out of the third film in this series but obliged later with a cameo). Riteish satisfies himself by producing or acting in quality Marathi films.
Sharman Joshi: He has shown a fair range, but unless 3 Idiots gets a sequel, it is unlikely that there will be a major investment in this young actor who is seen rarely on screen otherwise, as in the recent ensemble-cast 3 Storeys.
Shreyas Talpade: Shreyas Talpade has been one of the perennial assets of the Golmaal series (which he entered with film two—Golmaal Returns), so he will have to wait for the next Golmaal to have a big film. He made one appearance in Housefull 2, but he is not a fixture in that series. His comic turn in last year's Poster Boys, which he also directed and remade from his own Marathi hit, nosedived for reasons other than lack of merit. But as we said, it's luck that is primarily at a deficit with all these actors.
Suniel Shetty:
And there is no greater example of bad luck than this man. Remove Suniel Shetty from
Hera Pheri
and
Awara Pagal Deewana
and both benchmark comedies lose a lot of their funny sheen. A top star for over a decade and also successful as an occasional villain, Suniel does do sporadic films now but is best known as the comic hero of these two laugh-riots.
Hera Pheri
is now into its third part, and as said earlier, a sequel to
Awara…
is being planned.
Tusshar Kapoor: He stole the show in all the Golmaal films as the mute, and was also excellent in Kyaa Kool Hain Hum. The next Golmaal will soon be written and made, but his home series Kyaa Kool…is, now, sadly extinct after three members of the series.
Uday Chopra: Known as Yash Chopra's actor son who has also done many more things, Uday Chopra could not muster success as a solo lead. However, he formed a super-successful team of chalk-and-cheese cops with Abhishek Bachchan in Dhoom, and progressively, Dhoom 2 and Dhoom 3 did better at the box-office. There have been unconfirmed whispers of a Dhoom 4 happening, which are stronger than ever now. And that might bring the fizzy pair back, combating, if we have to believe the buzz, Salman Khan after John Abraham, Hrithik Roshan and Aamir Khan!
Also Read: Tusshar Kapoor talks about being a father and a follower of Buddhism
Click HERE to read more and view the original source of this article.


Loading ...