You can publish this article on your website as long as you provide a link back to this page.
This article was last updated on April 16, 2022

Alexa Chung, Jane Birkin, Princess Di — some of the biggest style icons in history hail from the U.K. And they're just as known for their distinct beauty looks, too. Perfectly winged eyes and bold lips are common on the stylish streets of London and Edinburgh, and no bathroom cupboard is complete without at least one delicious-smelling cleansing balm.
And while French products (including micellar waters, fancy perfumes, and rich facial creams) typically get all the glory, the U.K. has a host of incredible beauty finds ripe for the picking as well.
We're talking luxury fragrances, affordable lipsticks, A+ synthetic brushes, and more. We know not everyone can dash off to Britain to fill a cart or two at Superdrug though, so to save you the airfare, we rounded up our absolute favorite skin, hair, makeup, nail, and fragrance picks from across the pond.
The best part? All of 'em can be nabbed right here in the good ol' US of A. Curious? We thought you'd be. Keep clicking to discover some of the U.K.'s best beauty buys.

Best All-Around Brand: Boots No7
Boots is a staple of British life — sort of like if Walgreens expanded, had a killer own-brand prestige line, carried department-store brands, and then sold delicious sandwiches. Its Boots No7 line is incredible: High-quality cosmetics at affordable prices. It's hard to go wrong with the line, but our current obsessions? Its Stay Perfect Eye Pencil, Protect and Perfect Foundation, and Perfect Light Portable Loose Powder. You can find the products online, as well as a more limited selection at Target, Walgreens, and Ulta.
No7, $6.99, available at BootsPhoto: Courtesy of Boots No7.

Best Brush: Real Techniques Expert Face Brush
Created by Samantha Chapman of Pixiwoo beauty vlogger fame, this brush is fantastically firm for blending in your liquid or cream makeup, whether you're about heavier foundation or lighter BB creams. It helps the makeup work in around your eyes and nose, holds up after months of washing, and can even help makeup actually cover up acne scars in a way that looks perfectly au naturel.
Real Techniques, $8.99, available at Ulta BeautyPhoto: Courtesy of Real Techniques.

Best Lipstick: Sleek True Colour in Russian Roulette
That perfect red lipstick you've been looking for? That old-Hollywood, stillettos-and-sex-appeal red? It's right here. Sleek's Russian Roulette is straight-up crimson sans the annoying hot pink undertones that plague a lot of reds. The matte style is another plus: By keeping the finish unobtrusive, the lipstick will always call just the right amount of attention to itself.
The rest of Sleek's line is noteworthy, too — the contouring line and blush is generally regarded as fantastic. At affordable price points, pigmented color, and enough lipstick to last through at least five drinks, it's a good thing the company's products have finally made it over to the U.S. market.
Sleek, $7.49, available at SleekPhoto: Courtesy of Sleek.

Best Eye Makeup: Eyeko
The London-based brand's newest offering from adviser Alexa Chung, Me & My Shadow shadow liner, is a genius combination: an eyeshadow stick on one end, a brush for smudging and defining it on the other. Use in whatever combination you'd like: shadow, liner, or shadow-as-liner. Either way, it's going to stay put. Another product of theirs we love? Eyeko Skinny Liquid Eyeliner — a handy little eyeliner pen that will give you the perfect winged-eye look with absolutely zero fuss.
Photo: Courtesy of Eyeko.

Best Skin-Care Line: Simple
It really is simple: The company's amazing skin-care range — from after-gym wipes to scrub — is soap-free, perfume-free, irritant-free, and dye-free. What's left? Ingredients perfect for sensitive skin that still get the job done. It's hard to go wrong, but the moisturizing face wash is pretty damn amazing, and its universally beloved facial wipes are great for after a workout.
Simple Skincare, $6.99, available at Drugstore.comPhoto: Courtesy of Simple.

Best All-Around Facial Product: Neal's Yard Remedies Wild Rose Beauty Balm
Neal's Yard Remedies is a beloved British brand (its flagship is tucked away in an eponymous, eclectic alley off Covent Garden), and its Wild Rose Beauty Balm is perhaps the most-loved out of all its products. And, for good reason: This aromatic, all-purpose balm triples as a deep moisturizer, a cleanser (it even comes with an organic muslin cloth to wipe it off), and as a full facial mask with some serious restorative power. It's a little on the pricey side, but when a product's doing triple-duty, it's not hard to find some way to justify it.
Neal's Yard Remedies, $70.00, available at Neal's Yard RemediesPhoto: Courtesy of Neal's Yard Remedies.

Best Soap: Faith In Nature Pure Vegetable Soap
We know, it's an odd category, but Faith In Nature's pure vegetable soap is so good we had to include it. It's perfect for girls who take a soap-and-water approach to skin-care, and best of all, everything is cruelty-free, without synthetic color or fragrance, and paraben-free. And you can't argue with their amazing, innovative products — chocolate soap or seaweed shampoo, anyone?
Faith In Nature, $3.24, available at AmazonPhoto: Courtesy of Faith In Nature.

Best Skin-Rescuing Splurge: Eve Lom Rescue Mask
Eve Lom's Rescue Mask is definitely a splurge, but in terms of miracle-working, there might not be an equal on either side of the pond. Eve's known as the Queen of Cleansing, thanks to the balm cleanser that made her famous, but this mask resurrects stressed-out, jetlagged, hungover, broken-out, winter-dried, or otherwise dull skin — and if used only in cases of emergency, you can make it last long enough to justify the price.
A bonus: If you have tired, puffy eyes, just mix the mask with some water and dab it around your eyes. Sorted.
Eve Lom, $85.00, available at Barneys New YorkPhoto: Courtesy of Eve Lom.

Best Skin-Rescuing Salve: Sudocrem
This shy little pot of wonders does it all: eczema, scrapes, sunburn, burn burns, zits…pretty much anything that can happen to your skin, this salve can fix. It's particularly good for spot treatment: Just smear a little on before bed, and it'll dry that pesky bugger out by morning. It's not the most glamorous tool in the shed, but, hey, it gets the job done.
Sudocrem, $7.49, available at AmazonPhoto: Courtesy of Sudocrem.

Best Nail Polish: Nails Inc. Gel Effect Polish Nails Inc. started out as a nail bar, took over the U.K. as the nation's largest, and then made its amazing lacquer available to everyone. The Gel Effect line taps into the gel craze by using the same "plasticiser" technology as salon manis to get that streak-free, glossy finish. What's not to love about that — especially when a bottle of the good stuff is way cheaper than a trip to the salon?
Nails Inc. Gel Effect Polish in Mayfair Lane, $15.00, available at Sephora.

Best Second-Day Hair Products: Batiste XXL Dry Shampoo and Volumising Plumping Powder
Yankee dry shampoo might be dandy, but there's nothing like Batiste's XXL Dry Shampoo, which is an absolute must-have in a British girl's arsenal. In fact, it's almost better than clean hair. Work it in second-day (or third — it's that good) roots like normal dry shampoo, or give clean hair a light spray to impart just the right amount of residue for styling. The boost it gives will last all day without making your hair feel or look like you've taken a shortcut.
And, if your locks have lost their lift, XXL Volumising Plumping Powder is here to save the day. The powder's best applied at the roots, worked in with your fingers, then flipped back to get some mega volume. It also works wonders on thick hair to tame it into a chic, Brigitte Bardot bedhead.
Batiste, $8.99, available at Ulta BeautyBatiste, $7.60, available at ASOSPhoto: Courtesy of Batiste.

Best Luxe Fragrance Line: Jo Malone London
This high-street fragrance icon's line of perfumes is quintessentially Brit — from the packaging to the scents, the heritage tradition is infused with modern imagination and a bit of wry humor (see: the London Rain collection). Scents such as Earl Grey & Cucumber; Lime Basil & Mandarin; the signature 154 cologne; and the top-selling, feminine Peony and Blush Suede mean that there's something for everyone.
Jo Malone London, $115.00, available at NordstromPhoto: Courtesy of Jo Malone London.

Best Budget Fragrance: Lush Karma Solid Perfume
The website might describe this as an "ode to hippies and head shops," but even if its '60s-inspired with notes of patchouli, orange spice, and lemongrass, it definitely doesn't smell like you've been at Woodstock for a few days. Instead, the scent in this purse-sized solid sinks into your skin, leaving you with a lasting, unique (again, not in a bad way) aroma that smells absolutely delicious and hardly overpowering.
Lush, $10.95, available at LushPhoto: Courtesy of Lush.
Click HERE to read more..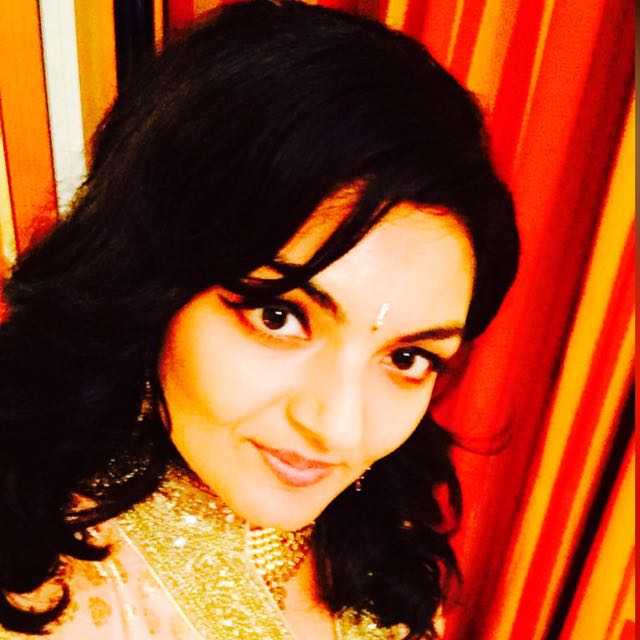 Vote for Shikha Dhingra For Mrs South Asia Canada 2017 by liking her Facebook page.

You can publish this article on your website as long as you provide a link back to this page.