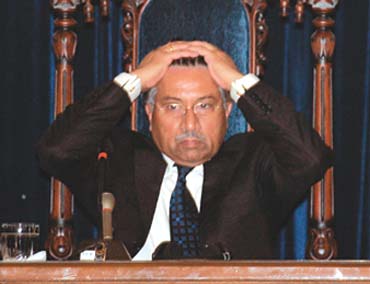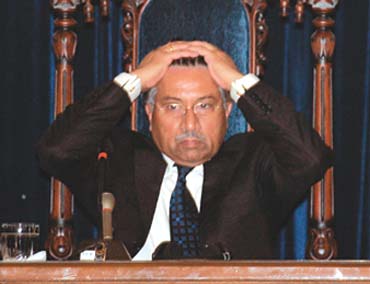 Former President Pervez Musharraf's request for an extension to pre-arrest interim bail for non-prosecution in PPP leader Benazir Bhutto assassination case was rejected by the Lahore High Court on Wednesday. The court also rejected his plea application for exemption from personal appearance in sensitive cases.

Earlier, the high court's Rawalpindi bench had granted Musharraf a pre-arrest interim bail in the BB assassination case till April 24 against submission of two surety bonds of Rs5 million each. A two-judge divisional bench of LHC including Sardar Abdul Sami Khan and Khawaja Imtiaz Ahmed cancelled the extension application today. The judges announced the verdict when Musharraf's counsel Barrister Salman Safdar failed to appear in the court. Referring to the high court's decision, Federal Investigation Agency (FIA) prosecutor Chaudhry Zulfiqar Ali confirmed that the former army chief can be arrested anytime now.

Musharraf is currently under detention and on a judicial remand at his Chak Shehzad farmhouse, which was declared a sub-jail after the cancellation of his bail in the judges' detention case. Meanwhile, an inquiry about the delay in Musharraf's arrest has discovered that at the time of pronouncement of the orders of bail cancellation of the accused, the I.O, SHO and Naib Court namely Sajid tried to arrest Musharraf, but the security staff comprising the Rangers, Counsel and supporters of accused General (r) Pervez Musharraf surrounded him and helped him to escape.