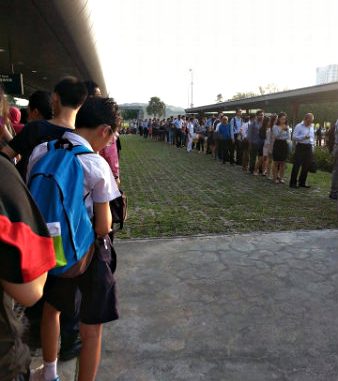 The train services along the North East Line have been fully restored after the disruption that occurred around 6am this morning due to power fault. The SBS Transit informed this in a statement this Thursday on the 21st of August at approximately 3pm.

The SBS Transit had deployed more than 20 engineers to conduct the recovery works on track and to complete them as soon as possible. It said that the disruption was caused by the dislocation of parts supporting a power supply line, resulting in power being cut between the Punggol and Sengkang stations. About forty shuttle bus services were providing services to commuters traveling between Punggol and Sengkang. The travellers were also able to board passing bus services for free at designated bus stops at the affected stations, and more than 70 goodwill ambassadors and traffic inspectors are also stationed to assist commuters.

"We deeply apologise to passengers for the inconvenience caused. Detailed investigations will be conducted to determine the cause of the fault." said SBS Transit. According to Strait Times, the train services have resumed on the North-East Line between Sengkang and Buangkok stations, but remain suspended between Sengkang and Punggol stations.