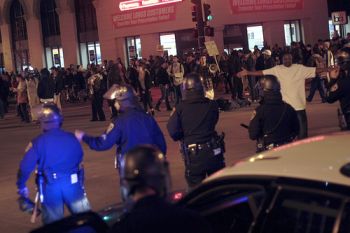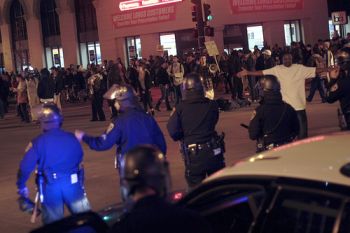 Citing a strain on limited crime-fighting resources, police officers pleaded with Occupy Oakland protesters Friday to leave their encampment at the City Hall plaza where a man was shot and killed the night before.
The shooting occurred the same day a 35-year-old military veteran apparently shot himself to death in a tent at a Burlington, Vt., Occupy encampment.
Those incidents and tensions at other camps have put pressure on leaders around the country to take decisive action to bring the protests under control.
"Tonight's incident underscores the reason why the encampment must end," Oakland Mayor Jean Quan said Thursday. "The risks are too great. We need to return resources to addressing violence throughout the city."
The Oakland Police Officer's Association, which represents rank-and-file police, issued an open letter to protesters saying the camp is pulling officers away from crime-plagued neighborhoods.
"With last night's homicide, in broad daylight, in the middle of rush hour, Frank Ogawa Plaza is no longer safe," the letter said. "Please leave peacefully, with your heads held high, so we can get police officers back to work fighting crime in Oakland neighborhoods."
The Oakland killing has further strained relations between the anti-Wall Street protesters and local officials, many of whom have called on the demonstrators to leave.
Article Viewed on Oye! Times @ www.oyetimes.com