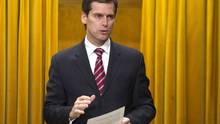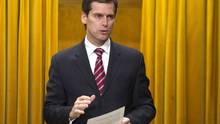 The Conservative backbencher responsible for a controversial union disclosure bill, Russ Hiebert, has recently mentioned his decision in a written statement of not seek re-election in the coming general elections. The Member of Parliament for the British Columbia riding of South Surrey–White Rock–Cloverdale, Russ Hiebert, made the announcement on Thursday amid pressure from the Conservative caucus to decide if its MPs would run again as the party prepares for the next federal election campaign.

In his elaborate written statement, Mr. Hiebert mentioned that he feels it's time for him to return to a career in law. He said that "it has never been my ambition to be a career politician. While I am proud of the difference I have been able to make in Ottawa, both as an MP and as part of the Conservative government, it will soon be time for my family and me to move on to new challenges." 45-year-old Mr. Hiebert added that he is "grateful for the strong leadership of Prime Minister Harper."

Mr. Hiebert is a law graduate, and according to his statement, he plans to renew his license to take on corporate directorships and "pursue opportunities in the private sector." According to a staff member at his office in Ottawa, Mr. Hiebert would not give interviews after the statement on Thursday. In light of upcoming general elections, Conservative MPs are being given a chance to decide if they intend to stand for re-election since the party has already begun its nomination process to start lining up its candidates.