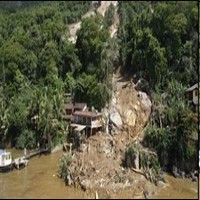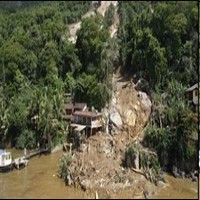 Rain has inundated the countryside and brought on landslides in one of the country's worst natural disasters. Towns in the mountainous Serrana region outside Rio de Janeiro have been beset by rivers of mud which have levelled houses, thrown cars atop buildings and left thousands of people seeking shelter. Authorities are saying that at least 529 people have been killed and more than 13,500 have been left homeless.
Apparently roads are still blocked in this area and emergency teams have to get in by foot and dig through rubble by hand. A lack of vehicles and heavy equipment is impeding rescue efforts.
The disaster has presented President Dilma Rousseff with her first crisis only two weeks after taking office. While no estimates have been made as of yet, it is thought that the disaster will likely have caused billions of dollars in damage.
Apparently freakish storms early Wednesday dumped the equivalent of a month's rain in just a few hours, the results of which were mudslides. These came down the mountain sides and sliced through towns, destroying roads, bridges and buildings and knocking out power lines.
It is not over yet though as weather forecasters have warned of still more rain
The Associated Press: Raw Video: Brazil Mudslides Kill Scores – January 13, 2011
Warning: may start with an advertisement
http://www.youtube.com/watch?v=Ue29ZRtVKqI
ITN News: Dramatic rescue from Brazil mudslide – January 13, 2011
Warning: may start with an advertisement
One poor woman was rescued but had to let go of her dog.
http://www.youtube.com/watch?v=w0JE1IrlhDU
Click HERE to read more from William Belle