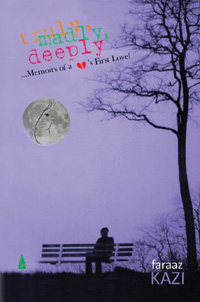 This article was last updated on June 18, 2022
Canada:

Oye! Times readers Get FREE $30 to spend on Amazon, Walmart…
USA:

Oye! Times readers Get FREE $30 to spend on Amazon, Walmart…

'Truly, Madly, Deeply!' will haunt you long after you have turned the last page


I picked up this book after seeing the endorsements and hype it has generated recently including the brilliant soul-stirring promo tune composed by some Bollywood music director for the story, said to be the first such incident ever for a novel. The book is a joy to read for all those people who have experienced love first-hand. 'Truly, Madly, Deeply…memoirs of a broken heart's first love' is supposed to be a light read but draws heavily on your emotions. It's a tale of the love of two teenagers in different parts of the world and how each landed up being where they are. Rahul is the brilliant student, no one in school can dream of becoming. Flamboyant, egoistic, over smart and overconfident are suitable adjectives for him, all until he meets Seema-who as the author says is his female equivalent- a girl from a junior grade who is a crush of all the young hearts in school. And as it so happens with first love, they both fall for each other without declaring their feelings.
Everything seems to be sailing smoothly and at this stage you realize the author's expertise as he ditto replicates the feeling of first love on paper. For a moment, I thought how can a teenager make statements like that in the middle of adolescence but the author has cleverly used multiple POVs to overcome that aspect. Mainly the story has been told through the third person narrative but at times, the author moves in the first person narrative, i.e. in the protagonist's (Rahul's) voice and you can almost see the difference in the mature and confusing states in both the POV's. A good example is when the author makes humorous statements with respect to the music in Rahul's ears, the butterflies in his stomach, etc. in the first person and then in the subsequent chapters, looks at the same feelings from a distant mirror. I have seen major authors fail while doing this but Kazi handles it naturally; right since the start where the prologue causes you anguish enough to generate curiosity about the story.
The good times are short-lived though as the story is supposed to be a tale of unrequited love and is narrated through flashbacks of Rahul, who is currently based somewhere in Philadelphia. Then the ego clashes and misunderstandings happen between the primary characters, Rahul and Seema and sometimes these incidents are so minute that a mature person really wonder are they even worth fretting about? But remember, it is a teenage love story and I could actually relate to it if I went back a few years and thought about myself then. And moreover, it makes on feel nostalgic of those days in your adolescence when attention from the opposite
sex
was at the top of our minds and our definition of family problems was so very different. One such scene is of the first kiss and I could almost feel the tension in the air, the author has generated through his choice of words. Philosophical prose is few and far in between but makes sense in connection with the story. Hushed phone calls, stashed cards, clandestine meetings and so many other such identifiable and well-written incidents make this book stand out amidst the clutter. And post the misunderstandings, you feel as if you are drifting apart with your beloved as by then you start to feel a real strong emotional connect with the characters. Secondary characters like Sahil, Farha and Grazil also steal the lime-light on occasions and one can't help but laugh at Sahil, curse Farha and feel sorry for Grazil but the author manages to involve the reader till the end where he does a surprise climax. The climax certainly stands out in the book and the author seems to leave a little to the reader's understanding, which I think is justifiable considering the heavy saga that this book is.
There are sonnets and poetic lines right before the protagonist goes in flashback, giving a hint of what the chapter is about or what is to follow. If they could have been italicized or spaced out a bit, that would have made it easy for the reader but nevertheless, some of the lines are really touching even in those poems. The book seems a little slow at times, almost as if the author is recounting it word by word and when major incidents happen, it picks up steady pace. At times, the long sentences hinder the pace of reading and complicated emotions seem to crop out of nowhere. The title is a little misleading as the book is not just about a depressed heart but includes so much emotional saga, right from some fast action to tricky teenage songs and some swirling ballroom dance. The cricket scene and debate scene also are exciting enough as if you're watching a live session unfold in front of your eyes. The last sentence of each 'memory' just before it fades haunts you long after you have closed the book after having read chapter and the haunting is strong enough to make you sit up, grab the copy back and go on to the next chapter just to know what happened next? Tempting to read it at one go but difficult as there is so much happening towards the middle and the end which suddenly gather pace that the reader will have some difficulty to keep track of things. Kazi calls himself a romance writer in one of his interviews that I happened to come across, he is in fact an amalgam of so many genres and that it is easily identifiable in the book. I could almost see shades of an intense Erich Segal and a subdued Nicholas Sparks in his writing style. He draws heavily from the old-school, using poetic lines to good effect and getting all those mushy emotions thrown in as a bonus. Once done with this, I'm sure the readers will be waiting to read his next saga. And having read this, I'm waiting for it to be made into a movie; it certainly has all the ingredients for a masala blockbuster. As far as only the book is concerned, it should be read 'truly, madly, deeply!'
You can publish this article on your website as long as you provide a link back to this page.