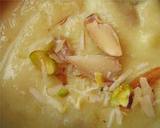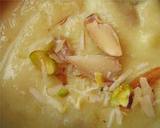 Rabdi
Ingredients:
2 cups milk
2 bread slices
¼ cup condensed milk
¼ tsp elaichi powder
a few saffron strands
Method :
Remove the crusts of the bread slices and throw it away.
Grind the bread slices in a food processor and make fresh breadcrumbs. Keep aside.
Boil the milk in the bottomed pan. Put the fresh breadcrumbs, condensed milk and sugar and cook on a high flame. Keep on stirring continuously for approximately 10 minutes.
Take out from the fire, put the cardamom powder and saffron and mix properly.
Store it in a refrigerator for 2 to 3 hours.