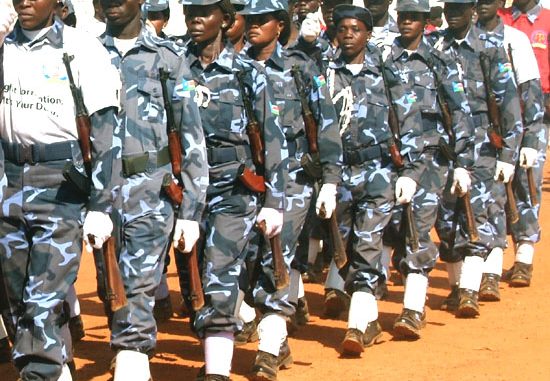 The new 322 police recruits of Western Bahr el Ghazal State (WBGS) held their graduation ceremony last Saturday at the State's main stadium. The recruits representing diverse regions in Jur River, Wau and Raga Counties have successfully completed their 13 months training.
The colourful ceremony was officially opened by the State Governor, Hon. Rizik Zackaria Hassan and various State Ministers during evening hours at Wau stadium.
Speaking during the event, the Governor Zackaria urged the police to respect citizen rights and human dignity while on duty.
"Am asking you to protect people's lives and property, the people expect a lot from you. Perform your duties professionally and with neutrality," Hassan challenged the new recruits.
This is the first police graduates in the State since the Country's independence from Sudan on 9th July 2011.
"The new graduates will not be decentralized, they will be deployed in the State Capital as a special force for any security or emergency response," said Abraham Manyuat, the WBGS Commissioner.
"The graduates completed many courses including; law enforcement and orders, criminology and various ways of providing security to the people," Andrew Makur, the head of training said during the inauguration.
"The batch attended lectures on criminal investigation, community policing, rule of law and human rights, arrest of criminals, psychology of police and other police matters," Makur added.
Mr. Makur pointed out that the new police force shall be deployed in the public places, like Markets and other congested areas in towns to provide security of the people.
"There are still some challenges, such as the high rate of illiteracy, lack of training facilities and lack of refresher courses for the senior police officers," Makur said.