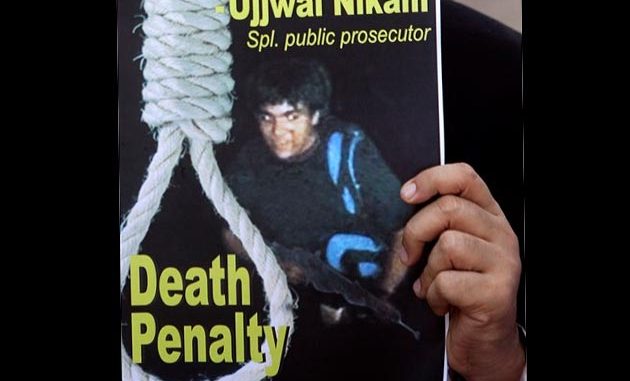 The
Bombay High Court
will convey the judgment today on the sentence for 23-year-old Pakistani Terrorist Ajmal Amir
Kasab who
killed 166 people and injured 238 others in 26/11 case.

Kasab is the single existing Pakistani gunman convicted and sentenced last May for the 26/11
Mumbai
terror attacks. Two years ago, Kasab, along with his slain partner Abu Ismail fired at innocent people at Chhatrapati Shivaji station, in and outside Cama hospital, killing over 60 people.

Mumbai lost three policemen, including anti-terrorism squad (ATS) chief Hemant Karkare outside Cama hospital. The city was under cordon for three days till National Security Guards (NSG) killed the terrorists at Taj Hotel, Oberoi Hotel and Chhabad House. Kasab was caught by the police at Chowpatty, while Ismail was killed in the swap of fire.

"It is proved beyond reasonable doubt that 26/11 was not a simple case of killing and murder; it was waging war against
India
," said special trial judge M L Tahaliyani had seized when he convicted and sentenced Kasab.

The High Court will also deliver its verdict in the state government's appeals against Faheem Ansari and Sabahuddin Ahmed's acquittals. The police told that both Indians helped with hand-drawn maps of terror targets for the plot hatched in
Pakistan
. The non-guilty verdict showed that the Mumbai police never had an impermeable case against them.

Special public prosecutor Ujjwal Nikam argued in the High Court for two weeks that there was confirmation that both men facilitated the assault by handing, at Lashkar-e-Taiba's request, a hand-drawn maps of prominent terror targets. Judge M L Tahaliyani found that the evidence against them was extremely suspicious.

The cops told the court that Ansari, who had rented a flat at Badhwar Park, near Cuffe Parade, more than a year before the 26/11 attack, had sketched maps and Ahmed delivered them to LeT commanders in
Katmandu
.

The trial judge had said, "The whole theory of the map being given by Ansari to Ahmed in
Nepal
and then the crude map being found unsoiled in the bloodied pocket of Ismail's trousers is unbelievable."