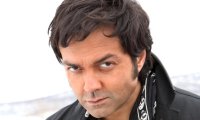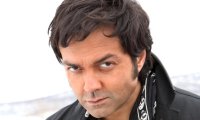 Promotional tours of
Players
are on and one man who is conspicuous by his absence is Bobby Deol. Though Abhishek Bachchan, Bipasha Basu, Sonam Kapoor and Neil Nitin Mukesh are making the most of the weeks leading to the film's release by travelling across the length and breadth of the country, Bobby is hardly been seen or heard about. Even though the 'players' are now all set to visit Dubai and London for the film's premiere, one wonders whether Bobby would be joining the team internationally at the least.
"It is rather surprising", says a PR expert, "In the times when every actor, whether a superstar or someone who has just started off, is going all out to promote a film, Bobby is relatively quieter. In fact even when it comes to media interviews, everyone is happy to give sound bytes though Bobby has kept a low profile. One can understand if Sikandar Kher is not being heard about much because he is the junior-most in the team and there are other far established actors around him. But Bobby is the senior-most here so his words would have definitely counted."
In fact amongst all the actors in the film, Bobby is the only person whose last two films had actually done some credible business at the box office. While Thank You was an average fare, Yamla Pagla Deewana was the first big hit of the year.
However, an insider spills the beans around Bobby. He says on condition of anonymity, "Bobby is the surprise element of the film. It is a newly written part which was not there in The Italian Job. Abbas-Mustan too feel that revelation around Bobby's character in the film should hugely surprise the audience. No one wants any preconceived notion around what he is doing while playing the part of Ronnie."
When contacted, Abbas Burmawala (of Abbas-Mustan duo) obviously kept tight lipped about the character of Ronnie. However, he did confide by stating, "There are a lot of surprise elements in Players and Bobby contributes to them. With twists and turns in the film, there was a requirement to have a character which was very intense. Of course the first choice was Bobby."
Further commenting on the choice, Mustan Burmawala adds, "When it comes to Bobby, there is no talk of story and all. We just explained in nutshell what he has to do and he was on. We have worked together in four films before (Soldier, Ajnabee, Humraaz, Naqaab) and understand his performance and style. We knew that he has it in him to play such a role. Now how much is it going to surprise you is something that you would know when you watch the film."
We do hope that the silence so far on the 'suspense quotient' is indeed worth it!
Watch 'Players' promo: