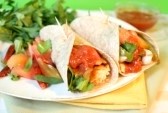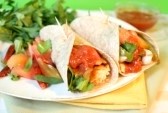 Colorful Vegetable Fajitas
Ingredients
8 (8 inch) flour tortillas
2 tablespoons vegetable oil
1 red onion, thinly sliced
1 green bell pepper, seeded and sliced into strips
1 red bell pepper, seeded and sliced into strips
1 teaspoon minced garlic
1 yellow squash, halved and sliced into strips
1/2 cup salsa
1 teaspoon ground cumin
1/2 teaspoon salt
1 cup shredded Monterey Jack cheese
1/4 cup chopped fresh cilantro
Directions
Wrap tortillas in aluminum foil, and place in oven. Turn heat to 350 degrees F (175 degrees C). Bake for 15 minutes, or until thoroughly heated.
In a 10 inch skillet, heat oil over medium high heat. Add onions, red and green peppers, and garlic; stir to coat with oil. Cover, reduce heat to medium, and cook for 5 minutes. Stir squash into vegetables. Stir in salsa, cumin, and salt. Cover, and cook for 5 minutes.
Spoon vegetable mixture evenly down the centers of warm tortillas, and sprinkle with cheese and cilantro. Roll up tortillas, and serve.