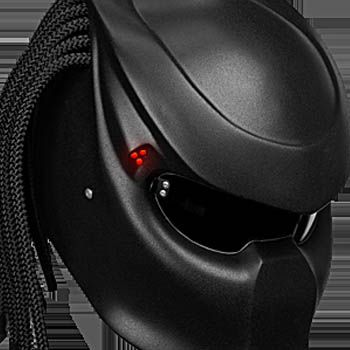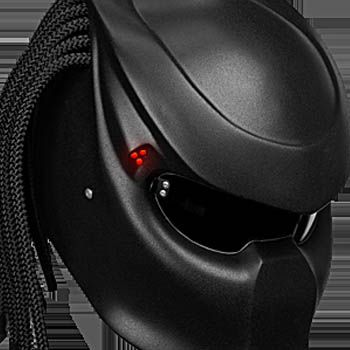 For all motorcycle riders, here is a crazy cool
predator 2
inspired motorcycle helmet. Helmet is used for our own safety but what about when you are safe and stylish at the same time and roads become hunting ground for you.
The predator 2
is a unique for its additional options and will turn you into an alien sport hunter. It has a number of awesome features which distinguish it from a common helmet. The best thing in predator 2 helmet is that you can make additional changes in it according to your choice.
This is designed and produced by Russian outfit NLO Moto. This helmet is made of composite materials strengthen with carbon fiber. This helmet is modeled on the pattern of alien bounty hunters. It is constructed out from a combo of fiberglass, polycarbonate and carbon fiber. These elements which are used in the construction of helmet make it proper hard and also protect you from certain harms. The inner damping layer of predator 2 is based upon certified IXS motorcycle helmet. This inner shield is replaceable and it can be changed for tinted and also specular shield. The transparent shield is included in the base line configuration.
The predator 2 helmet has one and dull black coating. You can purchase it any other color of your choice. This predator helmet is awesome. The real fun starts when it comes to optional upgrades. There are many additional options which you can use to make it according to your choice. you can add tinted shield, laser beams, graphics, many standard packages of scars, engraving and symbols and more elaborate airbrush design, superheads on dreadlocks, canines and an all carbon fiber shell as well. You can also go for full artwork and its cost depends upon the design.
These all additional options have impact on helmet appearance. The most interesting thing about this predator 2 helmet is that it is handmade and careful assembled to stringent quality checks. Awesome features!!
The helmet predator 2 is now available now with price tag starting at 780 dollars. But as you make additions in predator 2, cost is added to base cost of helmet.
When you go out wearing this predator 2 helmet, you will definitely make heads turn towards you. Spend your money to buy this innovative and super stylish helmet and be safe and create style statement on roads.
Click HERE to read more from Fashion Central.