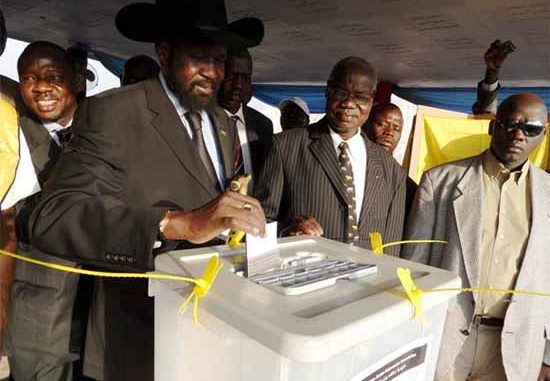 The President of the Government of Southern Sudan Salva Kiir Mayardit has reiterated his commitment to protect the world's newest state from war.
Speaking to the media at the Presidential Palace shortly after his return from Khartoum where the final results of the Southern Sudan Referendum were announced, Kiir said the announcement of the final results was an end to the years of discrimination and the beginning of new era in Sudan and Africa at large.
He added that the announcement marked the end of a fragile relationship between the North and Southern Sudan.
He said peace will be maintained between the neighbou/ring twin Sudanese countries, saying they both depended on each other.
"From now we shall protect the new nation. Never again shall the people of Southern Sudan be discriminated on accounts of race and religion or political outlook", Kiir said.
The President said the independence of South Sudan attained after a long struggle, is freedom for the people of the semi-autonomous region.
"You have voted for freedom. This result is the growing moment of all sacrifices made by the people of Southern Sudan", added Kiir.
Kiir said as part of the economic and social development for the new state, his transitional government will embark on agriculture, universal education, accessible road networks, public service, rule of law and gender equity as immediate goals.
He at the same time called for enhanced efforts to combat corruption.
"The zero tolerance on corruption should be an attitude and part of our professional ethics", Kiir said.
The President congratulated the international community for contributing to the success of the referendum.
Article viewed at: Oye! Times at www.oyetimes.com