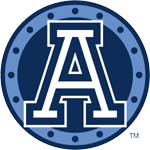 One day after adding a handful of receivers, the Toronto Argonauts Football Club is pleased to announce that it has signed the following import defenders:
DT Ledarius Anthony from Arkansas Pine Bluff
CB Evan McCollough from James Madison
DB Quinton Meaders from St. Mary's
A former All-American and All-Conference player at Arkansas Pine Bluff, Ledarius Anthony enters his first season in the CFL. A computer science major in college, he recently played for the Sioux Falls Storm of the Indoor Football League.
Evan McCollough played four seasons at James Madison University where he was named First-Team All-Conference as a senior and Second-Team All-State at cornerback. McCollough attended training camp with the NFL's Tampa Bay Buccaneers in 2009.
Quinton Meaders was an AUS All-Star as a cornerback in his only year at St. Mary's University last season. He was a key contributor in taking the Huskies to the Uteck Bowl championship game against Calgary. Meaders was born in Mississippi and attended Itawamba Community College for one season before joining the Calgary Stampeders at 2009 training camp.
These players and their teammates will take to the field on June 2 when Rookie Camp begins.