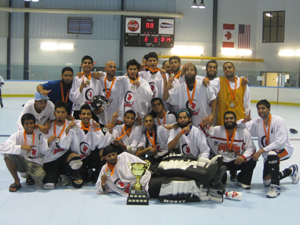 Scarborough ML Warriors and Brampton Khalsa Snipers inaugural champions of the Grand Victorian Radisson Plaza Indo-Ontario Cup 2010.
Congratulations to the Scarborough ML Warriors and Brampton Khalsa Snipers for capturing the Pool A and Pool B championships respectively. The ML Warriors would edge out Toronto Gabroo 3-2 in a tightly contested and entertaining affair. In Pool B, the Brampton Khalsa Snipers would breeze in the finals with a 4-0 win over the surprising Mississauga Rough Ryders.

Earlier in the day, the ML Warriors and Toronto Gabroo would trounce the Toronto Red Army and Brampton Whalers by a score of 5-1 and 6-1 in the semi-finals respectively to set up their finals encounter. The Brampton Khalsa Snipers rallied from a 1-0 deficit with 5 minutes left to win 2-1 over the Brampton Gabroo JR's. In the other semi-final, the Mississauga Rough Ryders would humble the Brampton Jets defeating them 5-2 to advance to the finals.
The tourney now concludes with a lot of promise for the future. A lot of talent was on display this weekend from both Pools and it will be interesting to see the growth and development of many of the young players that participated.