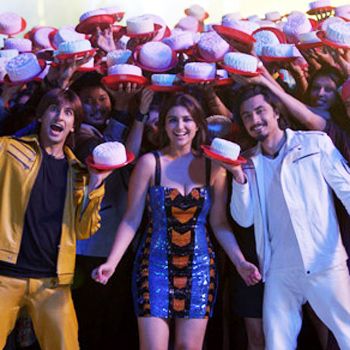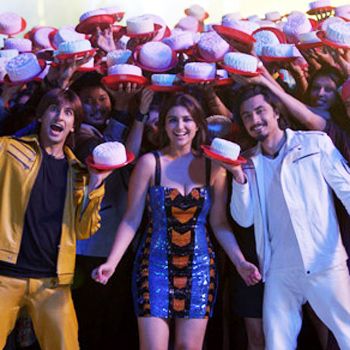 Ali Zafar never fails to surprise. This time too he has taken the game a notch higher by shedding off his
chocolate hero
image and holding a gun in his hand with a rough and sturdy avatar to share screen space with Ranveer Singh and Parieeti Chopra in
KILL DIL
. This big budget YRF production, which is slated to release on the 14th of November 2014, got 1.5 million Youtube hits on the trailer released few days ago.
Kill Dil is a story of two assassins, Dev (Singh) and Tutu (Zafar), who are on a killing spree under the able guidance of their guru Bhaiyyaji (Govinda) and what happens when they meet the free-spirited Disha (Chopra). What follows is a game of defiance, deception and love.
In his rustic rural looking character, Ali Zafar has not just impressed his fans but also his co-star In this film. According to Ranveer "Ali's presence, his voice, emotions, humour, delivery, look and even his dancing have all come together to make a distinct character who is engaging, endearing and above all, entertaining. Shaad and Adi sir (Aditya Chopra) are mighty impressed by Ali's performance. According to me, this is by far Ali's best performance ever because no other director has explored this dimension of Ali's personality. Ali has created an indelible contribution to the film and his performance will certainly be one of the highlights."
The Ram Leela star,
Ranveer Singh
, has showered him with praises. "
I've seen parts of the film during dubbing and I'm completely bowled over by the way Ali has brought the character 'Tutu' alive. Like Govinda ji, he'll be seen in an avatar which he's never been before, which should be tremendously exciting for his fans
."
Amitabh Bacchan is also looking forward to the film release and tweeted his praises for the film. From the looks of it, Shad Ali is to deliver a blockbuster again. This masala entertainer full of 'killer' scenes and bike stunts will definitely change Ali Zafar good boy image.
Click HERE to read more from Fashion Central.