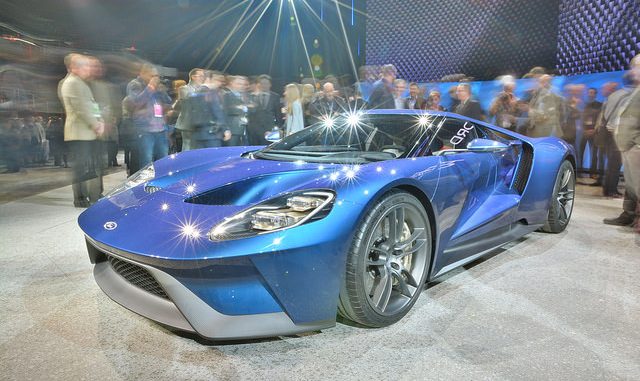 Wipe away that drool and pick that jaw up off the floor; here's a first look at the new Ford GT which was unveiled at the 2015 North American International Auto Show in Detroit today.
First up, the juicy–and obligatory–tech specs.
The all-new GT supercar is purely rear-wheel drive, has a mid-mounted engine, and an aerodynamic, two-door coupe body shell.
That engine? The most powerful production EcoBoost engine ever, a twin-turbocharged V6 capable of more than 600 hp. The powerplant is mated to a seven-speed twin-clutch gearbox.
Like Ford's done with a lot of their modern performance vehicles, the new GT bears resemblance to its past while still managing to look strikingly contemporary.
Aggressive styling abounds as the new Ford GT is replete with vents and grilles, fins and wings. Dual centre-mounted exhausts and borderline ostentatious circular rear tails lamps mean this distinctive rear-end is unlike any other.

Ford Motor Company also touched on a partnership with Dow Chemicals this morning. Together the two companies are said to be working on a new, more cost effective carbon fibre composite that will be mass produced for use across a variety of Ford products. The GT features a carbon fibre passenger cell and body panels.
"The GT is the ultimate execution of an enthusiast supercar," said Raj Nair, Ford group vice president, Global Product Development. "GT includes innovations and technologies that can be applied broadly across Ford's future product portfolio – another proof point that Ford continues raising the performance bar while ultimately improving vehicles for all of our customers."
The new car is slated to go in to production late 2016 and will go to market shortly after to celebrate the 50th anniversary of Ford GT race cars placing 1-2-3 at the 24 Hours of LeMans in 1966.
Here's a quick video of that unveil from the auto show floor:
Photographs by Kanishka Sonnadara.
Kanishka can be reached by email at: kanishka[at]oyetimes.com.