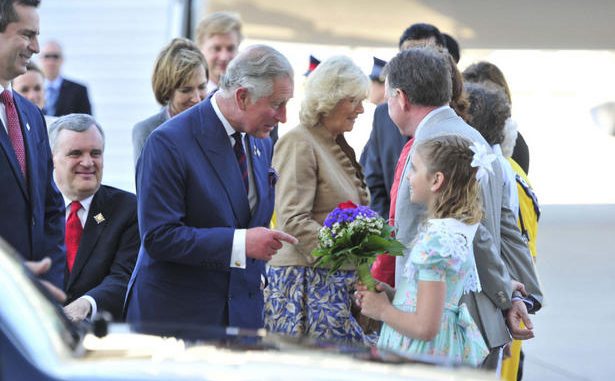 Prince Charles and his wife Camilla landed at Toronto's Pearson International Airport Monday. Canada welcomed the royal couple at New Brunswick on the Queen's Diamond Jubilee.

Premier Dalton McGuinty, Lt.-Gov. David C. Onley and other officials were present to welcome the royalties. The couple was officially married on April 9, 2005.

On Tuesday, crowd gathered around to warmly greet the Prince and Princess outside Queen's Park. In the crowd, the two prominent 7-year-old twins Helena and Grace Jordan were holding a hand-painted sign for the royal guests: "We were born on your wedding day!"

When David Onley, the Lieutenant Governor of Ontario, read the sign, he smiled and chatted with the kids for a bit. Their mother was also excited to meet Onley and is a big fan of the royalties.

Prince Charles and his wife Camilla are scheduled to reach Queen's Park near 10 a.m., where Onley has arranged quite an event for them. Reportedly, six people from Ontario will be honored with Diamond Jubilee Medals, as part of the celebration of 60 years of the reign of Queen Elizabeth II.

Later, Prince Charles will visit Ryerson University and meet with students and entrepreneurs and Camilla will visit The Queen's Own Rifles of Canada at Moss Park Armoury and inspect the honour guard mounted by the Queen's Own Rifles of Canada (a militia regiment within the Canadian Forces for which The Duchess is the honorary colonel-in-chief).

The couple is scheduled to tour Toronto's Distillery District and attend a private reception as part of the Diamond Jubilee celebrations hosted by McGuinty in the Fermenting Room of the Thompson Landry Gallery.