Just a couple of years she was playing a victim who was defended by a powerhouse lawyer [Amitabh Bachchan] in courtroom drama Pink. Circa 2018 and she is returning the favours by playing a lawyer herself in Mulk where she is defending a senior citizen (played by another veteran actor, Rishi Kapoor).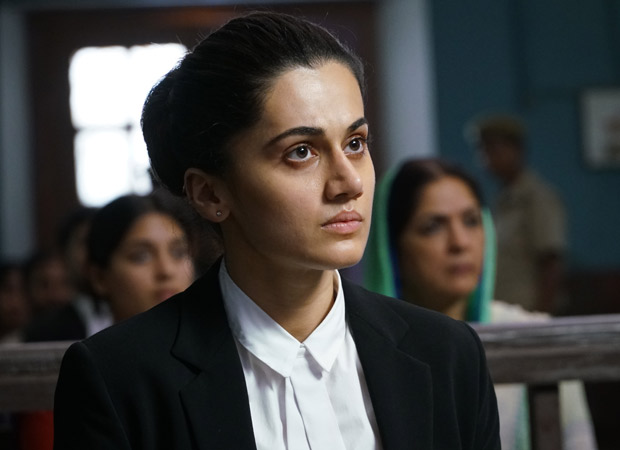 Taapsee Pannu, who has fast formed a place and position of her own in Bollywood, is expected to deliver a bravura performance in this Anubhav Sinha directed film which is as topical as it gets. Moreover, since she is playing a lawyer for the first time, one waits to see how she balances between being realistic and filmy.
"Well, there is quite some drama for sure in Mulk and though you may call some of it being filmy, I would say that it is catering to all around mass audiences. So yes, we have taken a commercial route for sure," says Taapsee who has another release of hers, Soorma, already playing in theatres.
As for the lawyer part, while one waits to see how audiences react to her antics in the courtroom, at least her parents are quite happy to see her in this avtar.
Laughs Taapsee, "Not that as kids we were exposed to films in a major way. Our parents used to make us watch films quite selectively. Kabhi kabhi toh mahino nikal jaate they before we used to watch a film in theatres. However what they used to tell me was that I should become a lawyer when I grow up. Reason being that main bahas karne mein kaafi ustaad thi. I have reasons and logic for the statements that I make. If I have a certain point, I would talk about facts rather than making statements in the air. My logic is simple, either you convince me or I convince you. There is no middle path."
Destiny though had different plans for Taapsee and it was the acting career that came her way.
"That's good too because I am now playing different characters. To be a sportsperson [Soorma] to a spy [Naam Shabana] to now a lawyer [Mulk], it has been a wonderful journey for me so far. I couldn't have asked for anything better," she smiles.
Meanwhile, she is also gearing up for the release of her next two films Manmarziyaan and Badla where she would again be seen in distinct roles.
Also Read: Here is why Taapsee Pannu chose to star in Anubhav Sinha's Mulk
Click HERE to read more and view the original source of this article.


Loading ...