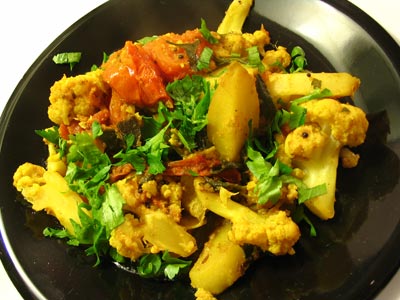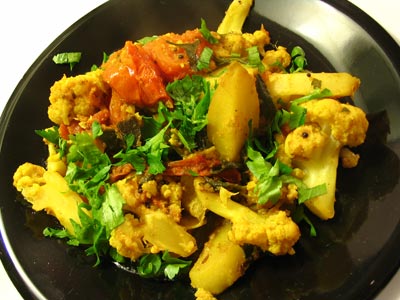 500 grams cauliflower florets
4 big potatoes unpeeled and cubed
1 teaspoon(s) cumin seeds
2 tablespoon(s) ginger finely chopped
4 green chillies finely chopped
1 teaspoon(s) turmeric powder
2 teaspoon(s) red chilli powder
2 tablespoons butter / ghee (clarified butter) / oil
2 tablespoon(s) finely chopped fresh coriander
salt to taste
Heat the butter / ghee / oil in a heavy-bottomed pan on medium level and crackle the cumin seeds. Add the ginger and saute for about a minute.
Add the potato cubes and cauliflower. Mix well. Add the rest of the spices and salt to taste. Mix well and cook covered on low level for about 15 minutes or till the potatoes and cauliflower are cooked. Mix in the chopped fresh coriander leaves.
TIP:
As a variation, the potatoes can be boiled first and then cubed. In this case, the cauliflower florets should be added to the oil seasoned with cumin and ginger. Fry it till slightly brown and half cooked. Add the potatoes and proceed as above.
Serve hot with: Indian bread (Pooris, Roti, Chapati), white rice or Coconut Rice (Nariyal Chawal)
Serves: 4
Cooking time (approx.): 16 minutes
Style: North Indian Vegetarian (Punjabi)