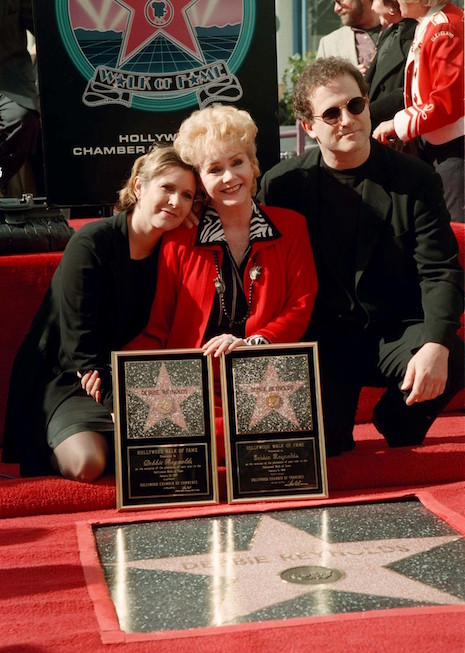 Is this the week of heartbreak or what? We're still miserable from the loss of Carrie Fisher yesterday and apparently her mother Debbie Reynolds was so distraught that she suffered a stroke. At her son Todd Fisher's house, while making funeral plans for her daughter Carrie! Back in the 90's, we were lucky to have spent a weekend with Debbie Reynolds at her doomed Hotel in Las Vegas. Debbie and her best friend Charles Nelson Reilly were desperately trying to save the hotel from bankruptcy. She invited press people for a free weekend to see the Hollywood Memorabilia Museum she had installed there. She and Charles entertained and wined and dined us nonstop throughout the weekend. We DID love the museum and wrote about it. But nothing could save the mismanaged, dated hotel. Debbie had a lot of disasters in her life- financial and otherwise- but she remained an enthusiastic and positive sweetheart. We will never forget her.
(Above, Carrie Fisher, Debbie Reynolds, and Albert Brooks (her costar in the wonderful "Mother") at Debbie's second Walk of Fame star ceremony in 1997)
Photo Credit: AKM-GSI
Click HERE to read more.



Loading ...